The Wondera, the strange and enicmatic old man: He was sent by one of the Onas divinities to help the lost group find the necessary elements in order to be able to open the Timesí Door. However heís human, and features limited powers. His large cane is his main and most powerful weapon shooting rays and lightings.
Email: Bob Frassinetti.
Art Dealer & Journalist.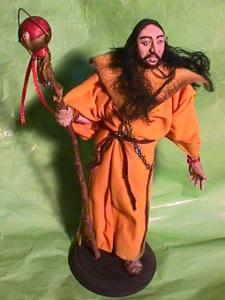 The figure
In major confrontations with the enemies he¬'s the key factor in culminate moments. He¬'s the wisest of all 6 characters; even more, he¬'s the one who explains Lucio, the narrator, the because of each situation they go through.
Email: The Buenos Aires Toy Museum,Bob Frassinetti.
The Buenos Aires Toy Museum,Argentina.
Bob Frassinetti. Copyright 2005. Roberto Dario Frassinetti.

Click to join artandantiques