Route 40,Argentina. The Magic of Route 40 by Federico B. Kirbus. Conact by Email:
Email: admin@frassinetti.com Bob Frassinetti.
Route 40 Argentina Blog by Bob Frassinetti, press here:
and if interrested in a Apps for iPhone
Take iArtdealer for Travel Information on Argentina!
Route 40 Argentina
|
Promote your Page too
Check out Market Place Argentina our Forum for Buying and Selling from Argentina.
2012 Bob Frassinetti Copyright Roberto Dario Frassinetti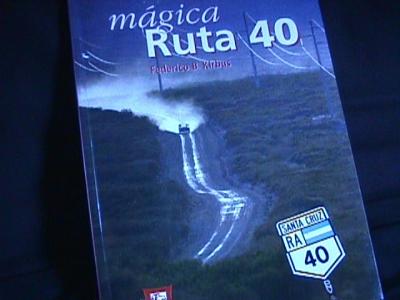 The magic of route 40 Argentina
This Classified Ad is for one "personal private driver tour guide with travel advice and + vehicle and equipment + meals on the road" and for you to have the right to reserve your seat on this overland travel adventure trip, for one unique tour starting around the first days of December of 2007, this travel adventure, that I'm organizing, a unique travel adventure trip down here in South America for only 3 other travellers apart form my self, the idea is starting out here in Buenos Aires, a cosmopolitan city full of live and exotic sights, we will be visiting unique buildings, lighthouses both in the city and on the Island of Martin Garcia some 40 miles by River …. As well as a day crossing to Colonia in neighbourhood country Uruguay, visiting the old Portuguese town of Colonia, some 300 years old …… After a day or 2 here and around these places we will carry on travelling towards Chile, going via Rosario, Cordoba and then Mendoza, seeing the Pampas, the Andes Mountains visiting Wine Bodegas, wonderful unique sights, searching town by town for Arts and Antiques, for those especially interested in old tractors steam engines we will also be hunting them, likewise for those insulators collectors, and visiting Museum and Art Galleries on all mayor stops, this adventure is not only about "hitting the road, jack" but also looking out to a parts of the world, that are rapidly changing and it might be one of the last times do see and document it before "man and the weather" change it for ever…. See sights and sounds like maybe have been the same for hundreds of years, remote villages, high up in the mountains or across in Chile. So we will be also crossing over to Santiago de Chile, the Pacific Ocean, Valparaiso, and then down south to the Big Island of Chiloe, this mystical and magic island, with hundreds of churches and strange wooded buildings over the sea, lighthouses and many islands to visit, and then back crossing over gain the Andes mountains, back across to Argentina, Via Esquel, Route 40, Ruta 40, seeing and travelling on trains, crossing lakes and bays, on paved and unpaved roads, hunting antique tractors, visiting lighthouses and museum, buying art and antiques and sleeping in small towns and villages some times in top notch boutique hotels other time in down and out places… Bariloche and Puerto Blest, for those by now tired out can catch a flight back to Buenos Aires, then home, or for those willing to spend Christmas and New Year in this part of wild South American and in style can carry on with me …….. Eating and tasting local foods and drinks, as well as wines … the idea is to have a total adventure in places I have already travelled to and others that I'm not familiar with. All this, for an adventure, that could well turn out to be ……… a drive of a life time. We would be travelling in a 4 wheel drive vehicle, 4WD this is a good on and off road vehicle, with all the equipment necessary also for camping out a night or 2 on the road, when its nice to ….. so far the idea is still being worked on, so its subject to some change, all I wanted to check out with this auction is if there are any possible candidates who would be willing to accompany me…… at the same time we would be documenting the trip for deferent purposes… I have worked out some kind of cost for the trip, its based on a daily rate per person, this doesn't include any extra expenses but only the use of the vehicle and me driving it (included all running costs of the vehicle, me, there the 24 hours helping, couching and providing information on the sights we will see ) and insurance, it would be US $190 per person per day of adventure, minimum days 21, calculated on a base of 3 passengers and if all seats are occupied and sold here at auction, today or in future run up auctions. Great trip for a family of 3, friends, or adventurers who never got the chance to be one…… and why not just for those lovers of art and antiques who want to experience pure fun a dn the sport of hunting down items, village by village town by town ….. All other expenses; from trip down, to Buenos Aires and back home, from food lodging here and on the road and all personal expenses all the way to medical costs if any, all , and each expense for each person, are apart, are to be paid by each of the individuals doing the trip, and you can do this threw your local travel agent or any way you feel fit in doing it. There are some risks involved so its best only to do trip if you are in good health and to let me know of anything before hand. Some information on myself, Lonely Planet has me listed as a "friendly and bohemian art dealer guide" on page 49 of its latest edition of Lonely Planet Guide for the city of Buenos Aires. This guide was written by Sandra Bao, and is just out, by the way, a great in view to our City. I'm also known on Internet online magazines and forums where I publish my insiders' articles and inputs for travellers & dealers on art to antiques dealers, just Google my name! Or Yahoo! I'm a qualified eBay seller with great feedback! And I have been on line on eBay since 1998. That goes back a long way for Internet users. So if you are interested in Art or Antiques, and you are thinking of travelling to Argentina Chile or Uruguay please feel free to email me…….. Please feel free to contact Bob Frassinetti: For more information:
Email: Bob Frassinetti.
Press here to see all topics on Art, Antiques and Travel Information for Buenos Aires & Argentina:
Everything on Art, Antiques, Collectibles as well as travel information for Buenos Aires, Argentina, Chile and Uruguay.
Phone me thru Skype, ID: Bob_Frassinetti or you can also chat with me thru Yahoo, press here:
Yahoo Contact
Find me on MySpace and be my friend!
Or Phone: +54 911 4475 3983 or in B's A's: 15 4475 3983 ) Invest in Argentina Real Estate an uprunning opportunity with a Future Read The Buenos Aires Art Dealer a e-zine magazine on Art, Antiques & Collectibles from Argentina.
The Buenos Aires ArtDealer, Argentina.