Recoleta Cemetery Argentina. The Recoleta cemetery was born then. In 1881, under the directions of Don Torcuato de Alvear - who would also be the man in charge of modernizing the facade of Buenos Aires, turning up the 19th century French like feel the city still beholds to the present- would remodel the cemetery with Architect Juan Antonio Buschiazzo. The cemetery began to be the monument to society and eternity that it is today, but it was just the beginning.
Email: Bob Frassinetti.
Art Dealer & Journalist.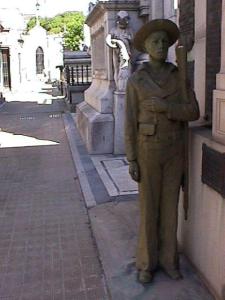 Recoleta Cemetery Buenos Aires
Interested in buying antiques and collectibles from Buenos Aires or for that matter any other item that I have mentioned in any article you have found on this my web site, you can buy Toys from my museum and threw eBay, threw the Toy Museum on eBay press here;
Toy Museum on eBay
and threw The Buenos Aires ArtDealer, press here;
Art Dealer on eBay
From Art to Antiques. Or contact me direct. For more information :
Email Bob Frassinetti.
Press here to go to The Buenos Aires Art Dealer is a webzine magazine on Art, Antiques & Collectibles made or found in Argentina.
The Buenos Aires ArtDealer, Argentina.
Bob Frassinetti. Copyright 2005. Roberto Dario Frassinetti. Argentina.

Click to join artandantiques