Rally Dakar 2009, and now again in 2010 Argentina and Chile. Day and Route. We will be following and along side this new Dakar 2110, so join us in our, Overland Travel Adventure Tour for Argentina & Chile. Rally Car Tour with Bob Frassinetti. www.frassinetti.com Bob Frassinetti, art and antique dealer and free lance journalist photographer from Argentina, Buenos Aires, working on the web, writing both for pleasure and work on art, antiques and collectibles, in and on Buenos Aires, Argentina as well are neighboring countries, Chile and Uruguay. "I've written for several Travel Adventure, Art & Antiques Magazines on and off the web and have researched Toys to Tractors as well as Steam Engines made or found in Argentina, as well as Travel Adventure along Route 40 and now the upcoming Dakar Rally 2010 to start here in " Buenos Aires, Argentina January 1st of 2010.
Email: Bob Frassinetti.
Art & Antique Dealer & Journalist working from the south of South America.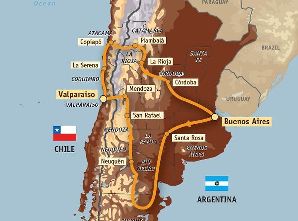 Rally Dakar 2009 and now 2010 as well!
If you would like to take part in any of our tours or in this interesting rally venture or just are looking for information on Route 40 Ruta 40, Argentina, please don't hesitate to contact us directly thru email, phone or chat. Press here: Contact me See "artdealer_ar" profile on Yahoo, I'm online now!:You can chat with me using Yahoo Instant Messenger. Email : Email Bob Frassinetti. Press here to go back to web page Route 40 Argentina:Daily Updates for Route 40 Argentina. Click to join RN40 More Information Photos and Links Home Topic: Other Travelles Topic: Bob Frassinetti Topic: Train Travel Argentina Topic: Lighthouse Tour Topic: Rally Classic Car Tour Topic: Route 40 Tour Other Links with information on RN 40 Route 40 Argentina & Tour, Patagonia & all Argentina Route 40 Photo Gallery Patagonia & all Argentina Route 40 Tour Patagonia Argentina Adventure Route 40 Argentina Blog Road Side Sanctuaries for Route 40 Argentina Car Rally Tour for Highway 40 Argentina
Email: Bob Frassinetti.
Art & Antique Dealer & Journalist working from the south of South America.