Palermo Hollywood Part Two, Photo Image Gallery for Fashion and Leasure, Fashion hunting in BA Buenos Aires is growing and developing at a fantastic range. This statement not only applies to the uptown chick neighborhoods that have regained glamour and class after the 2001 crash, but also to uprising locations that once were unknown residential neighborhoods and have now blossomed beautifully. Such is the case of the once Palermo Viejo –Old Palermo- now also Palermo Hollywood and Soho. Today this area is home to avant-garde restaurants, pubs, cafes and the most trendy and gorgeous shops. If seeking for fashion, the Palermo area is a must. If it's happening in Palermo it's happening in the city, and you must have first saw it in Palermo. All top designers have seemed to agree that the best possible show room to exhibit their creations and give their customers a preferential treat had to be in Palermo along the main fashion streets: Honduras, El Salvador, Armenia and Malabia.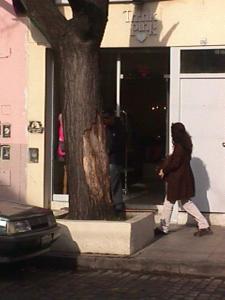 Blending harmoniously with the quietness and tranquility of the neighborhood, these shops are recycled art nouveau and art deco houses; inside, the marvelous creations plus a very comfortable space to enjoy your shopping. In spite of the general shared atmosphere Palermo beholds a wide range of designers and styles and leaves no one out. On the corner of Gurruchaga and El Salvador, Antique Denim is the place for those classic shoppers who are not very fond of innovation in terms of style but do care a great deal for quality. Simple, elegant, very royalty casual ware like with touches of innovation. Rapsodia is the hip and hot spot for hippie chick urban oriental dressers. Fantastic Asian fabrics turned into outstanding designs are this shop's mayor input. It's a place were you can design your own style knowing you won't bump on the streets or at the club with a twin like sister. All designs are limited editions and each style appears unique. Also to be found on El Salvador St. there's a vintage chick treasure. Maria Facchinelli's designs bring up the 1930 and 40s glamour and femininity through using great fabrics, laces and accessories with simple and perfect cut designs. Though the options are limited, who said the more the merrier? Here few and quality are a superb couple. The 2004 comeback 80s is very well taken advantage of in Maria Cher. Upgrading classic 80s designs using fantastic fabrics this collection takes very well advantage of a world trend and Argentineans it, translating a global style into the Latin American chick audience of great taste and fantastic sculpture bodies. Sizes are small. A few steps away is Jazmin Chebar's shop, the mecca to classic and quality clothing and accessories combined with fantastic materials and prints. During the winter season, Chebar offers a fantastic option of leather goods that outcast all the traditional leather outfits sold at Florida street. Martín Churba has his own show-room/workshop on Armenia St. were the avant-garde dresser would find all sorts of terrific outfits and cloths. Experimental fabrics and futuristic designs are Churba's trademarks. His high quality standard and visionary fashion style had led him to the world's fashion Meccas of New York, Rome and Paris. Also on Armenia St. –which seems to be the road to experimental fashion- is Seco, a rainwear shop. A fantastic idea that has been very well put together with complementary casual wear and funny lingerie. On Honduras St. Mariana Capriano blends comfort and great taste offering a wide range of patterns and fabrics in fantastic clothing. Of course this is just a sample of what can be found in terms of fashion in Palermo. Very representative of the style variation and possibilities that can be found in this hip and hot spot of Buenos Aires. Prices range from $40 up, but remember, these are prices in Argentine pesos, three times less than in dollars (3 pesos to 1 dollar at the current exchange range). Reasonable rates, great quality and a variety of design options to choose from are the main pillars of this fashion spot in the heart of Palermo. For further information on stores, addresses and prices please contact us.
Email: Bob Frassinetti.
Art Dealer & Journalist.

Click to join artandantiques