Spisso Liberato was a great Argentinean artist who devoted his life to sculpturing, painting and engraving. Born in Buenos Aires in 1930, his family had just arrived to Argentina from their motherland seeking progress and a better life. As a young man he worked for many years drawing sketches and book covers for a prestigious publishing company of the Argentinean capital city. As time passed by he left behind this everyday job to fully dedicate to his true passion: Art.
Email: Bob Frassinetti.
Art Dealer & Journalist.
Bob Frassinetti, art and antique dealer and free lance journalist from Argentina, Buenos Aires, working on the web, writing both for pleasure and work on art, antiques and collectibles, in and on Buenos Aires, Argentina as well are neighboring countries, Chile and Uruguay. "I've written for several Travel Adventure, Art & Antiques Magazines on and off the web and have researched Toys made here in Argentina, as well as Travel Adventure from Route 40 and Lighthouse Adventures along the Atlantic and Pacific coast, Dakar Rally 2009, 2010 and now for a 3erd time, 2011, "Building a Gallery Museum in the Province of Cordoba" ........ Travelling for Art and Antiques" and I have been on line since 1996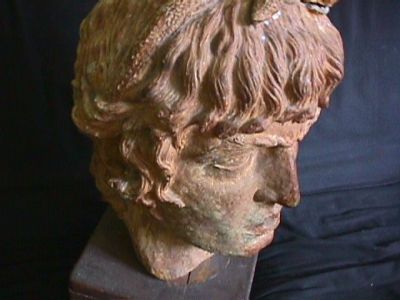 Spisso Liberato, the forgotten sculptor
True to his art, this outstanding craftsman worked who on sculptures, paintings and engravings was broadly rewarded with prestigious prizes and exhibitions worlwide. Some of the most relevant prizes our artist received are: First Prize Adquisición de Grabado en el Salón Municipal de Otoño in 1945, the Salón Nacional de Bellas Artes prize for his sculprurepor Resignación and the third prize of Salón Sanmartiniano, for his famous portrait of one of Argentina's most relevant fathers of the land: San Martín, in 1950 and the First Prize for Graving in Rosario in 1957. His first individual exhibition took place in 1945 in the Muller Art Gallery . His works where positively received by local artists, specialized critics and public in general. It was also at that time when his work was exhibited at many American show rooms. His works reflect a particular view of our country, through portraits on many of the most preeminent politicians and Fathers of our nation and native landscapes. His death was a great loss to all art lovers, thus the unfairness of the disregard towards his artistic skills, his legacy were his productions spread around all Buenos Aires; they reflect what once were his dreams and illusions eternalized through his artistic creations which greatly proof his amazing talent. Therefore we wanted to recall upon this artist through this brief though earned homage to his lifetime production.
Email Bob Frassinetti.
The Buenos Aires Art Dealer,Argentina.
Bob Frassinetti. Copyright 2005. Updated 2010. Roberto Dario Frassinetti.