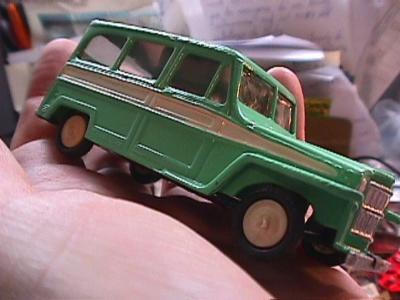 Estanciera Willy Jeep Station Wagon by Buby
Interested in buying antiques and collectibles from Buenos Aires or for that matter any other item that I have mentioned in any article you have found on this my web site, you can buy Toys from my museum and threw eBay, threw the Toy Museum on eBay press here;
Toy Museum on eBay
and threw The Buenos Aires ArtDealer, press here;
Art Dealer on eBay
From Art to Antiques. Or contact me direct. For more information :
Email Bob Frassinetti.
Press here to go to The Buenos Aires Art Dealer is a webzine magazine on Art, Antiques & Collectibles made or found in Argentina.
The Buenos Aires ArtDealer, Argentina.
Bob Frassinetti. Copyright 2005. Roberto Dario Frassinetti. Argentina.

Click to join artandantiques