Glass Candy Containers made in Argentina Photo Image Gallery,Cristalerias Picardo, Rigollieu and San Carlos are the exponents of the early 1900s glass production in our country, and in that same line we can state that these were the local industries that were producing glass candy containers at that time. The themes exhibited in these items were amazing and varied, from birth moments, penguins, motorcycles, historical monuments, holiday themes, to animals, dolls and trains. The list is endless, the possibility of having the chance of recovering one of those artistic highpoint is sublime. For more information:
Email: Bob Frassinetti.
Press here to go back to web blog:
Daily Updates on Art, Antiques, Collectibles as well as travel information for Buenos Aires, Argentina.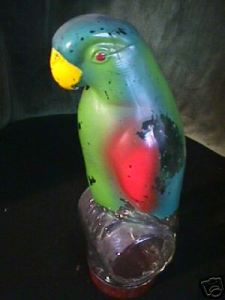 Parot from South America
Contact me threw my ICQ Unified Messaging Center :
You can also chat with me using ICQ 78541000..
Or for more information :
Email me, Bob Frassinetti.

Click to join artandantiques