Francisco Adaro, erotic art.Year, 2004. Updated 2012 Buenos Aires, Argentina. For more information ;
Email: Bob Frassinetti.
Press here to go back to the Buenos Aires Artdealer for iPhones, iArtdealer;
Art Dealer & Journalist.
Bob Frassinetti
|
Create your badge
Market Place Argentina: Follow Link and Join
Bob Frassinetti, The Buenos Aires Artdealer NET
Travel Guide for Art and Antiques in Argentina
|
Promote your Page too
Updated 2012 Bob Frassinetti Copyright Roberto Dario Frassinetti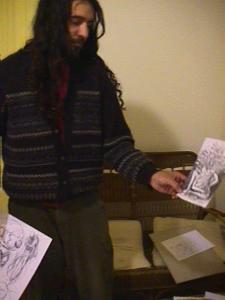 Fransisco Adaro
Interviewing a great Argentinean Muralist by Florencia Rodriguez,editor of The Buenos Aires Artdealer.....
Bob Frassinetti. Art dealer and journalist.Web blog.
Many of my works are exhibited at: Mutual Enrique Santos Discepolo (Argentina), Comisión nacional de excombatientes de Malvinas, Mutual sentimiento (Argentina), Mutual Homero Manzi, Centro cultural Nuestras Raíces (Argentina), Museo regional Rhuma Huasi (Córdoba, Argentina), UOM de Quilmes, UOM Matanza, Asociación de Artesanos y productores Tai Pichin,(Córdoba-Argentina), Asociación de Productores Apicolas de Olavarria (Argentina) and some of his works have allready been sold to private collectors in the United States .
Email Bob Frassinetti.
The Buenos Aires Art Dealer,Argentina.