Duravit Image Gallery, Duravit toy cars/lorries,etc. where the first ones to be produced in India rubber in Argentina. The Duravit toys were hence known as the unbreakable. From cars to trucks, every kind of real life vehicle was produced by Duravit in a toy form. Unlike most worldly renamed Argentinean toy car companies, Duravit was not a diecast producer, nor it worked at a 1/64 or 1/40 scale. these were bigger toys, entirely made in very good quality rubber, solid items. The scale was larger for the item's main target were young kids, so any loose part would be a hazel. From Duravit's early beginnings during the 1960s-70s until the 90s millions of children and adults played with their toys. The 90s were some rough years for nationally produced goods and Duravit went bankruptcy. Though it recovered from a very hard situation, most of the old molds and matrixes had to be sold as metal junk in order to compliment all legal relationships with it's workers and let them go. Nowadays they focus on light plastic toys that range from buckets for the beach to cars to slides. We're glad to know that they could recover from those hard days, though we' re truly sorry that no one could take better care of some great vintage molds and toys as these are part of our history and culture and extraordinary vintage items that are now lost forever.
Email: The Buenos Aires Toy Museum,Bob Frassinetti.
The Buenos Aires Toy Museum,Argentina.
Bob Frassinetti. Copyright 2005. Roberto Dario Frassinetti.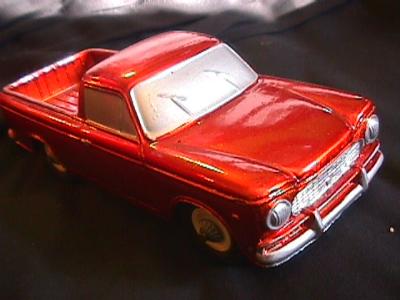 Duravit Fiat Pick Up Argentina