Argentine Kaiser Carabela, see image of this rare Argentine Kaiser Carabela 2 door.For more information:
Email: Bob Frassinetti.
Press here to go back to web blog:
Daily Updates on Art, Antiques, Collectibles as well as travel information for Buenos Aires, Argentina.
Check out Market Place Argentina our Forum for Buying and Selling from Argentina.
2012 Bob Frassinetti Copyright Roberto Dario Frassinetti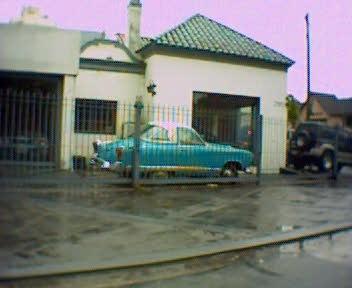 Kaiser Carabela Argentina
Fron Cars to Antiquing in Buenos Aires by Bob Frassinetti. Rare and incredible objects, furniture, books, toys, artworks… all those antiques and collectibles you dream of can be found in Buenos Aires. Once upon a time Buenos Aires was a very small port city with very little population surrounded by one of the world's most fertile lands. Not too far away there were several other populations with very different traditions to the Spaniards who had populated this portside area. As the city grew and the Porteņan society evolved many Europeans chose Argentina to be their home. They immigrated with all their possessions from every corner of the old continent. This flow from Europe to Argentina first began in mid 19th century, and has never stopped till now. At the same time, as the world evolved –wars, economical possibilities, inspiration, were many of the causes that help other people chose our country as their own. All of these new immigrants that were coming from Europe (Western and Eastern), Middle East, Asia and Africa, as well as many other Latin American countries, brought with them all kinds of objects, from paintings to mirrors and combs, from decorative items to all kinds of furniture, and so on. This brief history of immigration in Argentina might help those that don't know our country to understand a bit about the eclectic variety of items that can be found in this beautiful city that is Buenos Aires (specially Buenos Aires because it has always been the main gate to our great and beautiful country). Many of them were brought in immigration ships, many others were sent to these families from their homelands, some others were imported, and some other ones were the result of business among relatives who lived in their homelands and these new immigrants that were building a life in our Pampas. Those valuable family objects some times due to hard economic situations, or may be because there was no one to inherit them, have taken a path towards flea markets, auctions or antiques shops. During the last few years there has been a huge turn in our economy, the peso (local currency) has lost much of its value in relation to the dollar and the Euro, this situation has impacted in many areas of our everyday life. On the dark side one of the biggest consequences of this economic shift has been an intense flow of goods towards all kinds of markets, in order to keep on with a certain lifestyle. Therefore many families have found themselves in a situation were they had to sell many of their family's goods. On the bright side this new valuation of the peso has made of Argentina a more appealing place to visit for foreigners, since its much cheaper than many other big international metropolis though still shows all its splendor in its culture, art, fashion and good sense of living. Our local flea markets, open fairs and antiques shops are open history books that show this turns in our lives. Plus, these are excellent places to shop for those items all art lovers dream of, as well as an excellent opportunity for art dealers that wish to offer their regular clients high class items at reasonable prices. One of the most beautiful open air markets in the city is in the historical neighborhood of San Telmo, that's open all day during Sundays, from very early in the morning to late in the afternoon. Surrounded by countless antiques shops that open their doors to the public all week long, this fair is just beautiful, with very good quality items… Bargaining is always an interesting possibility when acquiring these type of objects, always a plus to get what you want at the price you want to. In the outskirts of the city, the Solano fair is one outstanding market where if you have a sharp eye for antiques you can find absolutely amazing treasures. Since this fair is very much for locals you can find all from old clothes, semi used house goods, and whatever people had and needed to sell… Its always better to visit this outskirts out of the tourists path fair with a local, best if you know what you want but don't have much time and your Spanish is not very good. Back to the city, one excellent flea market is the Dorrego Market, in the heart of Palermo, very nearby a great restaurants area, this market has all kinds of items. Its just a matter of walking around and talking with the local people that are very kind and would gladly help you in your quest. On the other end of the city, during the weekends there's an other kind of flea market in Peru abajo. Located in the beautiful residential area of Acasusso you will find this fair has all kinds of decorative items and furniture, one of its specialties are chandeliers at very reasonable prices… High class and good prices, one excellent combo! These are the most representative fairs and markets in BA. There's nothing you can't get, you name it, they have it… And of course, these are excellent sights when touring through the city of tango, 'cause there are many different street shows that weekly chose those locations to show their art: tango, puppeteers, street theatre, live music, plus all kinds of local street food to enjoy during your walk, there's no way that can go wrong! Bob Frassinetti: For more information:
Email: Bob Frassinetti.
Press here to go back to web blog:
Daily Updates on Art, Antiques, Collectibles as well as travel information for Buenos Aires, Argentina.
Phone me thru Skype, ID: Bob Frassinetti or you can also chat with me thru Yahoo, press here:
Yahoo Contact
Find me on MySpace.
Updated 2009 Copyright Bob Frassinetti, travelling for arts and antiques in the south of South America,....... Conact by Email:
Email: admin@frassinetti.com Bob Frassinetti.
Route 40 Argentina Blog by Bob Frassinetti, press here:
and if interrested in a Apps for iPhone
Take iArtdealer for Travel Information on Argentina!