J Viski,Janos Viski. JANOS VISKI was born in 1891, in Szokolya, Hungary. This brilliant Hungarian artist studied at the Academy of Fine Arts under Tividar Zempleny directions. His first exhibition dates from 1913 -although there is some people date it from 1921- By admiring his works, one can easily see-through his paintbrushes, and feel his passion for animals, specially horses. According to many Art Specialists, it was not just the animal he was interested in but also it's features and particular movement, which he successfully managed to portray in his works. Forms and colors were his main tools to express himself, animals and landscapes, his passions. His works reflect that supreme blend, fantastically achieved by a gifted artist. Featuring motion and forms as well as color effects in open-air locations, his most frequent model were horses. His pictures express strength; and a careful admirer would discover a great impressionist effect. His paintings could and can be admired several museums, galleries and show rooms all over Hungary, and many of them can be found in private collections in Brazil, Uruguay and Argentina. For in his quest to admire light and natural beauty, he traveled several times to these southern countries on study trips. In 1936 he was awarded a Grand Prix at the 1936 Salon des Beaux Arts in Paris.
Email: Bob Frassinetti.
Art Dealer & Journalist.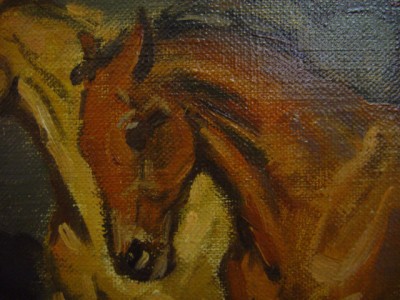 J Viski
Brilliant Hungarian artist studied at the Academy of Fine Arts under Tividar Zempleny directions. His first exhibition dates from 1913. So if you are interested in Art or Antiques, and you are travelling to Argentina please feel free to email us…….. and what about Collectibles and just to mention some like Advertising, Advertising Art, Architectural, Art Deco, Auto Parts, Badges, Banks, Beswick, Bottle, Bottle Openers, Bronze, Button, Calendars, Candy Containers, Carnival Glass, Chandeliers, Christmas, Coca Cola, Corkscrews, Elvis Presley, Ethnic Art, Ethnic Toys, Fans, Fishing, Fishing Reels, Folk Art, Francisco Adaro, Furniture, Lamps and lightning items, the wild 60's and 70's, Garden Furnishing, Girl Scout, Glass Art, Glass Contemporary, Golf, Halloween, Inkwells, Insulators, Ivory, Japanese Woodblock Prints, Jewellery, Judaic, Kitchen, Knife, Lamps, Lighters, Lightning Rod , Majolica, Match Holders, Medical, Motorcycles, Music, Napkin Rings, Nautical, Netsuke's, Nutcrackers, Paintings, Liberato Spisso, born Buenos Aires, Argentina. 14 March 1903, Portrait Artist, Viski, Jean ( Janos ) 1891 - 1961, Old Car, Paper, Paperweights, Pens, Pencils, Pencil Sharpeners, Pepsi Cola, Perfume Bottles, Pewter, Phonographs, Photography, Postcards, Posters, Prints, Radio, Railroad , Records, Steam Tractor, Scientific Instruments, Sewing, Sheet Music, Silver, Souvenirs, Sports, Stero Cards, Stereoscopes, Telephones, Television, Tools, Toys, "The Buenos Aires Toy Museum. Argentina", or a Tractor, Typewriters, Watch, Weapons, Weather Vanes, Wood Carvings, Wooden, World's Fair, to say Vito Campanella. For more information:
Email: Bob Frassinetti.
Press here to go back to web blog:
Daily Updates on Art, Antiques, Collectibles as well as travel information for Buenos Aires, Argentina.
Phone me thru Skype, ID: Bob Frassinetti or you can also chat with me thru Yahoo, press here:
Yahoo Contact
Find me on MySpace and be my friend!