Travel Argentina with Bob Frassinetti for arts and antiques as well as 4WD travel adventure .... if Traveling is all about meeting people, going through different experiences, enjoying different cultures and discovering foreign and interesting sites. I've traveled throughout the south of South America, and I truly believe that a great part of making a memorable experience out of a journey is meeting people, locals specially. Getting to know the site through a local's point of view is a wonderful experience, off the path outings… following the popular saying: "when in Rome, you do what Romans do". That's my leitmotiv when traveling. I also adore my country. I'm a proud Argentinean who has discovered throughout the years the beauty and mysteries of this southern country. Hence I began sharing throughout forums and websites my experiences, tips on what to do when visiting our country. And as I kept on writing about the various customs of our culture I kept on discovering things –little treasures- that I thought were for granted. A great wine, an outstanding site within the city, my own refuge from the craziness of a cosmopolite city, an off the path antique fair… this has been a two way street experience, for at the same time I proudly share the beauties of my land, I have found myself discovering many new and interesting features too. I even have met some great people through these forums, people who came to BA and met with me, with which we've had an amazing time and enjoyed a great conversation, a glass of outstanding Argentinean wine. I've written about art & antiques, visiting the Patagonia or riding the train up to the Andes through the clouds, shopping and leisure in the city of Tango and of course, about the great pleasure Argentineans take on good eating. I've always focused on our most traditional dish, asado, for I've thought it was the most perfect way of getting into the Argentinean feel. However I've recently discover, that Argentineans –alike many countries within the world who have been built hand in hand thanks to a great flow of immigration, are not all the same. We –as a nation- share our culture and language, but each and every one of us is unique. We each have a particular life's history that has made us be what we are, and it's important not to forget about that. To me, that particular part of myself is curry. Yes, food. Yes, Indian food, which I got into when I lived in London and in the British Guyana. My speciality is my Indian-British- Argentinean curry… Hmmm; Indian from origin, British for it's were I picked it up, and Argentinean for non of these countries have the superb kind of meat we have down here in Argentina and that adds that special something to it. This is my bonding meal, I cook it for my special people. It's a ceremony which I find most amusing. Not to brag, but it's the best curry in the country! I won't say my secret for I'm an artist, and that would spoil the magic… You must come down here and experience it yourself. So if you are interested in anything from Art to Tango or Antiques, and you are thinking of travelling to Argentina Chile or Uruguay please feel free to email me…….. Please feel free to contact Bob Frassinetti: For more information:
Email: Bob Frassinetti.
Press here to see all topics on Art, Antiques and Travel Information for Buenos Aires & Argentina:
Everything on Art, Antiques, Collectibles as well as travel information for Buenos Aires, Argentina, Chile and Uruguay.
Phone me thru Skype, ID: Bob_Frassinetti or you can also chat with me thru Yahoo, press here:
Yahoo Contact
Find me on MySpace and be my friend!
Phone: +54 911 6965 1955 or in Argentina (011) 15 6965 1955 Read The Buenos Aires Art Dealer a e-zine magazine on Art, Antiques & Collectibles from Argentina.
The Buenos Aires ArtDealer,San telmo Section. Argentina.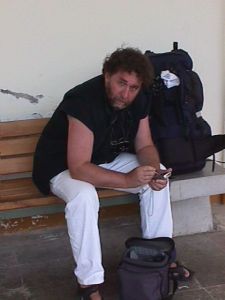 Travelling with Bob Frassinetti in Chiloe, Chile
Every travel magazine from any mayor city around the globe has lately included Buenos Aires as one of the hottest, most interesting, posh and appealing locations to visit. Surely you've heard some things about this South American capital. May be you know about our absolutely great beef. That BA is the birthplace and capital of tango. That we love soccer and beautiful women. May be you know that Buenos Aires is also known as the South American Paris because of it's superb beauty and high fashion sense. But this gorgeous city is much more than that, and is just what you're looking for your upcoming vacation getaway. We can make your stay in Buenos Aires an unforgettable experience of great living, just to fit your dream vacation. Our customized tour services are listed in both Lonely Planet Buenos Aires and Lonely Planet Argentina. Sophisticated, culturally rich and with an amazing Art scene, Buenos Aires is diverse and wonderful, and we know all about it: its history, culture, social life, hot spots and hidden treasures. Our personalized and customized tour services are specially tailored for YOU, to fit YOUR needs. So if you're expecting a group tour in one of those huge buses, having 5 minute stops at pre arranged "tourist" spots and a mass conceived service, we're afraid we're not the crew for you, but all the same we can refer you to a local tour operator that will take great care of you and your loved ones. What you will find with us, instead, is a small group of experts that will tailor a special tour circuit for you and your traveling partners. This is not a group service, we only tour traveling partners and we don't mix and match. We'll take you in and around in our private car, show you the city you're interested in discovering and enjoy each of the spots along the way. Our schedule is your enjoyment, we don't rush, we want you to enjoy and relax in your vacations and we handle everything for you to enjoy the best vacation. We customize services for leisure travelers as well as business men and women. Our 15 year expertise in the Art, antiques and collectibles world puts us in a privileged position to tailor art and antiques hunts for dealers from around the globe. We provide not only insightful information but also priceless contacts with the local dealer scene. We know the people, the goods and the market. The only thing you need to tell us is what you're looking for and we'll take it from there. We work from the minute you begin to plan your trip, to the second you finally receive the full container back home with all the goods bought in Argentina at fabulous prices that will get you a great profit rate, unmatchable. If you had bought in Paris, Rome and the rest of Europe for your Antiques so far, and you feel a bit ripped of with the high Euro, then Buenos Aires is the place for you. Top notch antiques and art, for reasonable wholesale prices and an experience of a lifetime. Our 10 year experience in developing cultural services and researching projects, internationally published articles as well as information provided to tour forums and websites around the planet, are the ground foundation upon what we work to customize leisure travel of all kinds. If you're traveling to Argentina and Buenos Aires, we take personal care of you and your satisfaction. We will show you the best of Buenos Aires, take you to amazing places, introduce you to our cultural and social traditions as well as share the best of our cuisine and wines. Just you and us, you'll become a true local touring BA. We'll make sure you feel at ease and at home. We handle everything, from flight and hotel reservations, and pick up rides to the airport to any side trip in and around Argentina or neighboring countries. Your only worry will be to relax and enjoy the best of this amazing country. LEARN MORE ABOUT OUR ART DEALER CUSTOMIZED SERVICES We are argentine based and fluent English spoken. We have decades of experience. Let us build your dream vacation from scratch. You have the idea, we'll do the rest For more information :
Email: The Buenos Aires Art Dealer, Bob Frassinetti.
Press here to go to the Buenos Aires Art Dealer, San Telmo Section :
The Buenos Aires Art Dealer. San Telmo.
Press here to go to the Buenos Aires Toy Museum :
The Buenos Aires Toy Museum, Argentina.
Press here to read Daily updates on Art, Antiques and Collectibles :
Everything on Antiques and Art in Argentina, Chile and Uruguay.
Bob Frassinetti. Copyright 2005. Updated in 2009, Buenos Aires, Argentina. Roberto Dario Frassinetti.