Travel Argentina with Bob Frassinetti for arts and antiques as well as 4WD travel adventure .... if Traveling is all about meeting people, going through different experiences, enjoying different cultures and discovering foreign and interesting sites. I've traveled throughout the south of South America, and I truly believe that a great part of making a memorable experience out of a journey is meeting people, locals specially. Getting to know the site through a local's point of view is a wonderful experience, off the path outings… following the popular saying: "when in Rome, you do what Romans do". That's my leitmotiv when traveling. I also adore my country. I'm a proud Argentinean who has discovered throughout the years the beauty and mysteries of this southern country. Hence I began sharing throughout forums and websites my experiences, tips on what to do when visiting our country. And as I kept on writing about the various customs of our culture I kept on discovering things –little treasures- that I thought were for granted. A great wine, an outstanding site within the city, my own refuge from the craziness of a cosmopolite city, an off the path antique fair… this has been a two way street experience, for at the same time I proudly share the beauties of my land, I have found myself discovering many new and interesting features too. I even have met some great people through these forums, people who came to BA and met with me, with which we've had an amazing time and enjoyed a great conversation, a glass of outstanding Argentinean wine. I've written about art & antiques, visiting the Patagonia or riding the train up to the Andes through the clouds, shopping and leisure in the city of Tango and of course, about the great pleasure Argentineans take on good eating. I've always focused on our most traditional dish, asado, for I've thought it was the most perfect way of getting into the Argentinean feel. However I've recently discover, that Argentineans –alike many countries within the world who have been built hand in hand thanks to a great flow of immigration, are not all the same. We –as a nation- share our culture and language, but each and every one of us is unique. We each have a particular life's history that has made us be what we are, and it's important not to forget about that. To me, that particular part of myself is curry. Yes, food. Yes, Indian food, which I got into when I lived in London and in the British Guyana. My speciality is my Indian-British- Argentinean curry… Hmmm; Indian from origin, British for it's were I picked it up, and Argentinean for non of these countries have the superb kind of meat we have down here in Argentina and that adds that special something to it. This is my bonding meal, I cook it for my special people. It's a ceremony which I find most amusing. Not to brag, but it's the best curry in the country! I won't say my secret for I'm an artist, and that would spoil the magic… You must come down here and experience it yourself. So if you are interested in anything from Art to Tango or Antiques, and you are thinking of travelling to Argentina Chile or Uruguay please feel free to email me…….. Please feel free to contact Bob Frassinetti: For more information:
Email: Bob Frassinetti.
Press here to see all topics on Art, Antiques and Travel Information for Buenos Aires & Argentina:
Everything on Art, Antiques, Collectibles as well as travel information for Buenos Aires, Argentina, Chile and Uruguay.
Phone me thru Skype, ID: Bob_Frassinetti or you can also chat with me thru Yahoo, press here:
Yahoo Contact
Find me on MySpace and be my friend!
Phone: +54 911 6965 1955 or in Argentina (011) 15 6965 1955 Read The Buenos Aires Art Dealer a e-zine magazine on Art, Antiques & Collectibles from Argentina.
The Buenos Aires ArtDealer,San telmo Section. Argentina.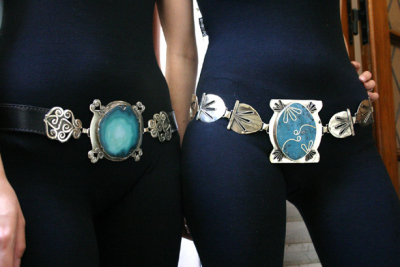 Seek Fashion as Art
Fashion in Argentina "the latest cultural trend is to be unique. to be part of the exquisite VIP section of society lays on the fact that those who belong are not mass manufactured, not mass consumers, but elite consumers, one of a kind people. the outside appearance of a celebrity cannot be now purchased at a department store, for they customize their look, their style, themselves. nowadays clothing and fashion are approaching this conception of production. each item, each shirt, skirt, sock, shoe are kind of unique but not in a couture way, but in a more casual way." -- bob frassinetti So Fashion and Desoign is a big city option here in Buenos AIres, we'll take you shopping in Buenos Aires to those incredible Argentinean Design and European stores, where you'll be able to buy those exquisite designs in local pesos, sight seeing will be organized regarding your interests, so there's no need for you to walk through the city like a regular tourist, but to visit those incredible places you love and have an excellent time out and get to know the city like we do, like a local, a native. One of the options is Florida Sreet, is one of the world's most important pedestrian streets. This promenade is one amazing shop windows for leather goods of all kinds. Jackets, shoes, purses coats and all kinds of design items of the highest quality can be bought in this area. Our local designers -many of the best of them- have chosen this street to exhibit their creations. Prices are very accessible and quality is just over the top! Leather shopping is a must when in BA, for this capital city is not only the city of tango but also the head of a nation built upon what has always been our national industry, cattle growing, so leather goods and handcrafts have evolved together with our society and its passion for fashion and high class esthetics. Also on Florida Sreet, there is one of B's A's greatest shopping malls Galerias Pacifico. At Galerias Pacifico the pleasure of shopping is combined with the richness of an everlasting expression of our artistic and architectural heritage. This place that now hosts one of the best shopping areas was originally built up as a train station that would connect the capital city of Buenops Aires with the Pacific Ocean, hence its name.. However this never took place, and during the 1990s this incredible building was turned into a shopping mall. The ceiling is not just any ceiling, is a great central dome painted by five famous muralist painters -Spilimbergo, Urruchua, Colmerio, Castagnino, Berni- who have portrayed different subjects though nonetheless have achieved an amazing cohesion of shapes and colours. At Galerias Pacifico like as well along Florida Street ......... you'll find all the world's most exclusive stores such as Christian Dior, Cacharel, Prune, Ralph Lauren, etc, plus the outstanding local brands that are highly appreciated worldwide such as Chocolate, Laurencio Adot, Casa Lopez, Welcome, Trosman, Jazmin Chebar, amongst many others. Jewellery and couture can also be found in this amazing city. Strolling down Alvear Av. in the Recolecta Area we'll take you to the best jewellery stores in the city; Argentineans are very much fond of jewels so there are various types for you to choose from, traditional vintage ones, tailored made as well as vanguard modern ones, silver, gold, platinum, alpache, diamonds, all kinds of precious stones... your dream jewel can come true! Around this very chick area we'll take you shopping and find all you came looking for, even those outfits you wanted to buy back home but turned out to be too expensive, here in Buenos Aires those same stores -Gucci, Dior, Ralph Lauren, Armani, Valentino, Versace- sell the very same collections in pesos (remember its three times cheaper that in dollars and a bit less than four times cheaper than in Euros). After a long day out shopping you'd enjoy a great relax in one of our excellent spas, massages, aroma therapy, sauna, swimming a bit in the pool would help you to regain energy. At night there's always something to do in the city of tango. Dinning out in our beautiful city is always a delight; local traditional Argentinean food, gourmet cooking, and world wide cuisine are among the many options for each meal. This city is worldly known for its gourmet options as well as for the excellent wines. So you'll enjoy some of the world's greatest wines and food, and if you're interested in wine tasting, there are many tailored tasting courses for you to take in an afternoon or even a day or two. Of course you can't leave the city without enjoying the best of its music and dance... Learn how to tango with the same teacher who trained Madonna when she played Evita. Enjoy a great Argentinean wine while listening to the best tango. We'll take you clubbing to one of our excellent dance places for an unforgettable night out.......