Travel Argentina with Bob Frassinetti for arts and antiques as well as 4WD travel adventure .... if Traveling is all about meeting people, going through different experiences, enjoying different cultures and discovering foreign and interesting sites. I've traveled throughout the south of South America, and I truly believe that a great part of making a memorable experience out of a journey is meeting people, locals specially. Getting to know the site through a local's point of view is a wonderful experience, off the path outings… following the popular saying: "when in Rome, you do what Romans do". That's my leitmotiv when traveling. I also adore my country. I'm a proud Argentinean who has discovered throughout the years the beauty and mysteries of this southern country. Hence I began sharing throughout forums and websites my experiences, tips on what to do when visiting our country. And as I kept on writing about the various customs of our culture I kept on discovering things –little treasures- that I thought were for granted. A great wine, an outstanding site within the city, my own refuge from the craziness of a cosmopolite city, an off the path antique fair… this has been a two way street experience, for at the same time I proudly share the beauties of my land, I have found myself discovering many new and interesting features too. I even have met some great people through these forums, people who came to BA and met with me, with which we've had an amazing time and enjoyed a great conversation, a glass of outstanding Argentinean wine. I've written about art & antiques, visiting the Patagonia or riding the train up to the Andes through the clouds, shopping and leisure in the city of Tango and of course, about the great pleasure Argentineans take on good eating. I've always focused on our most traditional dish, asado, for I've thought it was the most perfect way of getting into the Argentinean feel. However I've recently discover, that Argentineans –alike many countries within the world who have been built hand in hand thanks to a great flow of immigration, are not all the same. We –as a nation- share our culture and language, but each and every one of us is unique. We each have a particular life's history that has made us be what we are, and it's important not to forget about that. To me, that particular part of myself is curry. Yes, food. Yes, Indian food, which I got into when I lived in London and in the British Guyana. My speciality is my Indian-British- Argentinean curry… Hmmm; Indian from origin, British for it's were I picked it up, and Argentinean for non of these countries have the superb kind of meat we have down here in Argentina and that adds that special something to it. This is my bonding meal, I cook it for my special people. It's a ceremony which I find most amusing. Not to brag, but it's the best curry in the country! I won't say my secret for I'm an artist, and that would spoil the magic… You must come down here and experience it yourself. So if you are interested in anything from Art to Tango or Antiques, and you are thinking of travelling to Argentina Chile or Uruguay please feel free to email me…….. Please feel free to contact Bob Frassinetti: For more information:
Email: Bob Frassinetti.
Press here to see all topics on Art, Antiques and Travel Information for Buenos Aires & Argentina:
Everything on Art, Antiques, Collectibles as well as travel information for Buenos Aires, Argentina, Chile and Uruguay.
Phone me thru Skype, ID: Bob_Frassinetti or you can also chat with me thru Yahoo, press here:
Yahoo Contact
Find me on MySpace and be my friend!
Phone: +54 911 6965 1955 or in Argentina (011) 15 6965 1955 Read The Buenos Aires Art Dealer a e-zine magazine on Art, Antiques & Collectibles from Argentina.
The Buenos Aires ArtDealer,San telmo Section. Argentina.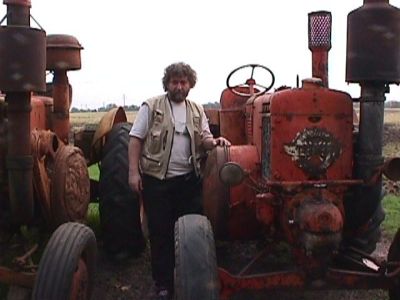 or find your antique tractor
The World's barn tractors Commonly known as the world's barn, Argentina for as long as it has existed, has provided the world with its best prime products: grain and meat. Our outstanding fields have been an incredible initial advantage for the development of these activities at a world scale. As the planet evolved and technology was more and more a key factor for all kinds of productions, our country –who acknowledged that- began to develop the best possible machinery for our field production. However the first big input in this field came from abroad. The United States, who were also developing at a incredibly high range their field had come up with the world's most efficient tractor. Massey, Ferguson, John Deere, Henry Ford, are just some of the most outstanding businessman ever, they have revolutionized field production forever. As I've pointed out many times in previous articles, it was during Peron's government when Argentina developed its first and most impressive 100% Argentinean tractor: the Pampa. From then onwards, there were several innovations within the tractor production industry that were extremely positive to the Argentine farmer and landlord. Nonetheless, the subsequent economical and political crisis our country went through had a deep impact in what national produced tractors was. Overseas companies, however, did not withdraw their productive inversions. And this was a key factor for our production to keep on being one of the world's mot important ones. It was during the late 60s up till the 90s when overall, most of the tractors were locally produced by foreign trust firms. John Deere, Massey Ferguson among the most important ones were the ones who dominated the local market. After the 2001 breakdown, there has been a significant change within the tractor and field oriented machinery industry. More and more, local Argentinean firms are beginning to arise from the dust to provide the local market with 100% Argentinean products. And best of all, this has been a complement to the remaining foreign origin industries. The convection of these two industries' backgrounds has resulted in a significally better satisfaction of the local market. Because the Argentine field's proportions are quite different from several others in the world. Mass produced goods –all sorts of grains- and regional cultives such as vines, tobacco and fruits at a much smaller scale require different machines which can now be provided by a wider range of tractor industries. Among the many terrific examples of reconversion is the Argentinean firm Argrinar. It was re opened in 2002 by a local group in what used to be the Massey Ferguson plant in General Baigorria, Santa Fe. This is the largest Argentinean capital company providing the local and Latin American markets with outstanding tractors. As to the examples mentioned above for regional products, T&M is an other Argentine company that has arose recently and it's showing some of it's outstanding potential. Tanzi has been developing technology and machinary for the Argentine field for more than 40 years, always adapting new technologies used all around the world to provide the best products for the local field's needs. Last but not least -in our obviously petit and selective list, for we cannot list all but the most remarkable examples of what we're talking about- is Pauny S.A.-Zanella. This is one of the newest combinations within the Argentine industry that has arose from the 2001 crisis. Pauny is a joint venture of workers, managers and local capitals that have continued production after Zanella went bankruptcy. Not only this cooperative produces tractors, but all sorts of metallurgic products. And the Pauny tractors are a very innovative and convenient alternative for medium size exploitations. All and all, these tractors are an excellent example of the Argentinean's capabilities of adaptation to new circumstances, where innovation, creativeness and passion for work are the main ingredients for a good result. Back in the 50s was the Pampa –now an outstanding collector's item-, nowadays all these companies arise in that direction not only to fulfill our countryside needs but also to include in the tractors' collectors wish list new and innovative alternative models.