Travel Argentina with Bob Frassinetti for arts and antiques as well as 4WD travel adventure .... if Traveling is all about meeting people, going through different experiences, enjoying different cultures and discovering foreign and interesting sites. I've traveled throughout the south of South America, and I truly believe that a great part of making a memorable experience out of a journey is meeting people, locals specially. Getting to know the site through a local's point of view is a wonderful experience, off the path outings… following the popular saying: "when in Rome, you do what Romans do". That's my leitmotiv when traveling. I also adore my country. I'm a proud Argentinean who has discovered throughout the years the beauty and mysteries of this southern country. Hence I began sharing throughout forums and websites my experiences, tips on what to do when visiting our country. And as I kept on writing about the various customs of our culture I kept on discovering things –little treasures- that I thought were for granted. A great wine, an outstanding site within the city, my own refuge from the craziness of a cosmopolite city, an off the path antique fair… this has been a two way street experience, for at the same time I proudly share the beauties of my land, I have found myself discovering many new and interesting features too. I even have met some great people through these forums, people who came to BA and met with me, with which we've had an amazing time and enjoyed a great conversation, a glass of outstanding Argentinean wine. I've written about art & antiques, visiting the Patagonia or riding the train up to the Andes through the clouds, shopping and leisure in the city of Tango and of course, about the great pleasure Argentineans take on good eating. I've always focused on our most traditional dish, asado, for I've thought it was the most perfect way of getting into the Argentinean feel. However I've recently discover, that Argentineans –alike many countries within the world who have been built hand in hand thanks to a great flow of immigration, are not all the same. We –as a nation- share our culture and language, but each and every one of us is unique. We each have a particular life's history that has made us be what we are, and it's important not to forget about that. To me, that particular part of myself is curry. Yes, food. Yes, Indian food, which I got into when I lived in London and in the British Guyana. My speciality is my Indian-British- Argentinean curry… Hmmm; Indian from origin, British for it's were I picked it up, and Argentinean for non of these countries have the superb kind of meat we have down here in Argentina and that adds that special something to it. This is my bonding meal, I cook it for my special people. It's a ceremony which I find most amusing. Not to brag, but it's the best curry in the country! I won't say my secret for I'm an artist, and that would spoil the magic… You must come down here and experience it yourself. So if you are interested in anything from Art to Tango or Antiques, and you are thinking of travelling to Argentina Chile or Uruguay please feel free to email me…….. Please feel free to contact Bob Frassinetti: For more information:
Email: Bob Frassinetti.
Press here to see all topics on Art, Antiques and Travel Information for Buenos Aires & Argentina:
Everything on Art, Antiques, Collectibles as well as travel information for Buenos Aires, Argentina, Chile and Uruguay.
Phone me thru Skype, ID: Bob_Frassinetti or you can also chat with me thru Yahoo, press here:
Yahoo Contact
Find me on MySpace and be my friend!
Phone: +54 911 6965 1955 or in Argentina (011) 15 6965 1955 Read The Buenos Aires Art Dealer a e-zine magazine on Art, Antiques & Collectibles from Argentina.
The Buenos Aires ArtDealer,San telmo Section. Argentina.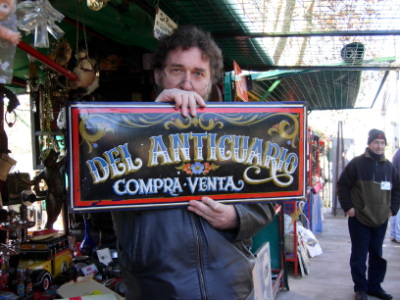 Hunt art and antiques
San Pedro Telmo Antiques Fair Every Sunday for the last two decades and a half, Dorrego Square in the very own heart of the old quarter of Buenos Aires, mutates into an outstanding open air antiques market. Early in the morning is the best way to go and witness the organization and assembling of the market that takes place from 10 am to approximately 5 pm every Sunday. There are over 270 booths featuring everything from old record players, to jewelry, scholar items, memorabilia and all sorts of antiques and collectibles from glass items to porcelain… Every Sunday over 10,000 visitors wonder around the fair, seeking for that special one-of-a-kind item for their homes or collections. From art to antiques, from collectibles to memorabilia, the San Telmo Antique Market Fair has it all for its visitors, passerby's and dealers who take the opportunity during the Sunday market to meet and chat with the experts and antiquarians. to ......... Coast train weekend anticues fair The COAST TRAIN -Tren de la Costa- is a railway that runs in the northern suburbs of Buenos Aires a couple of meters away from the River Plate shore, hence the name. Departuring from Olivos main station, there are 11 stops before arriving to the River Plate Delta in Tigre. The Journey is gorgeous and interesting for it tours around an outstanding upperclass area of Buenos Aires filled with trees, beautiful mansions great landscaping. At the Barrancas station of the train more precisely at 700 Solis St in the neighborhood of Acassuso, is the Train's antiques fair taking place every Saturday, Sunday and Holiday from 10 am to 5 pm. With a broad option of choices ranging from antique furniture to paintings, sculptures, collectibles, antique books and all sorts of scholar items -to name a few of the options- this outdoor market has become an established spot for the antique and art dealers, intrepid collectors as well as for curious passer bys during their weekend stroll by the river. The fair features over 70 booths featuring all sorts of rare and interesting items from sulky carriages to warlike object from World War I, and old silver platter or a delicate Limoges chinaware, an ancient clock or a state-of-the-art telephone, everything can be found during a visit to this open air market.