Steam Rollers, Steam Trains and Steam Tractors from Argentina, selling all Steam Engines from Argentina, tarctors, old and vinatge, rare engines froun in this part of South America, Argentina, Chile and Uruguay,..... Argentina is a country whose communication system's foundations have been layed down in rail systems' blueprints. All through our history trains have been an indispensable factor, for production, leisure, communications and tourism. Firstly layed down for productive purposes, these rails have rapidly been also used to put our natural beauties in contact with those curious and adventurous travelers. And the result has been just awesome, because the possibilities of accesing some of this georgeous places are very much limmited because of the complex geography. Up in the northern part of our country, limmiting with Chile and Bolivia, there's one of the worlds most beautiful places: the Quebrada de Humahuaca. Before colonial times, this area was a very important part of the Inca Empire, for it's a one of a kind oasis in the middle of the arid puna, the Humahuaca valley is very fertile area surrounded by some of the highest mountains in South America, the Andes. Even during colonial times people in this places kept on working their lands as their forefathers did for many generations. Colonial authorities exploited other natural resources such as cole, silver and copper mines as well as sugar cane production. These two production systems still coexist to our days. The need of communications in times of the Independence brought the rail system to this area. The objective was to establish a fluent communication with Chile's mine's production. The result was the amazing Tren de las nubes, train of the clouds. This train was built in several stages between 1921 and 1948, by more than 3,000 workers. More than 500 km of rails open the path to an amazing journey through the clouds. La polvorilla is the last stop of the tour, running at more that 4000 mts of the sea level the train appears to ride on air as it crosses the viaduct of the same name. The journey is a lifetime experience and can be done all year long –although during winter there are some parts that are not available-. All ten couches are moved by the diesel locomotor. Comfort, a must in such an amazing experience, is also very taken care of, so that we, passengers can enjoy the ride without having to worry about anything. There are no words to describe this experience –believe me, I see myself as a very expressive person but that journey left me speechless… However the full smile on my face and the glowing in my eyes showed my inner happiness and astonishment in front of one of the most beautiful experiences ever. An other incredible train ride in our country is also in the northern area, but this time in the eastern part, in the border with Brazil. The rain forest train, tren de la selva, runs all the way through the National park of Iguazú, to one of America's greatest falls: the Iguazú Falls. The beauty of this place, one of nature's outstanding pictures, in the middle of the rain forest, this gigantic red watered falls (the ground in this area is reddish, very brick like because of its particular chemical composition) are just a beautiful spectacle available all year round, though in summer the temperature can easily reach the 45°C, all the rest of the year this area has a very warm weather. Nonetheless, the heat, the area is very well prepared to receive visitors from all over the world, therefore when visiting Iguazú there are many outstanding accommodation options –all includded as well as spa resorts- that would make you feel very much at ease. Traveling south from Buenos Aires, there's a must for all of those who want to travel through our Patagonia. Worldly known because of its cross path, short cut super economic: La trochita (short of Trocha which is Spanish for cross path). This 75 cm. cross path rail was began to construct in the early years of the 1920s, though its construction was delayed due to climate inconveniences. By 1936 it began to run through its amazing 402 km. This train had ups and downs regarding governmental policies, and it was closed many times. But thanks to the hard work of the authorities of the province of Chubut, the train is still alive and running, not through the original 402 km. But through 165km. Of beauty, through Esquel. Lepá and El Maitén. This train is not only a circulation service to witness amazing sights, but living history. The wagons in which we ride are the original 1922 ones, that are heated by antique salamanders regulated by the passengers to their preference. The whole train is an antique treasure that we have the pleasure to enjoy, even the locomotives, one of the two available is a Baldwin Locomotive Works, American, class 75 B with 431 hp of power; the German Henschel, class 75 H with 411 hp of power. There's also a moanouver locomotive class 75 M, made by Henschel y Sohn. An other train treasure of the south is the historic steam train that rides in the sorrounding area of the Nahuel Huapí lake in the internationally renamed sky resort, Bariloche. Very much a rolling museum, this train was manufactured in Scotland in 1912 by the North British Locomotives company in Glasgow plaque number 121, the wagons were originally made in England, in an outstanding art deco style, made out of Cedar and Mahogany. All seats are covered in red and green velvet in the 667 wagon that was made in 1914. There are wagons that had been specially made for the important managers of some of this British trains and their family. The wagon booked for the family number 677 was specially made for them in England in 1913 and it has three bed rooms, kithcen, bathroom and a special room for the help that travelled along. Tourist class wagons number 128 was made in Glousester; the pine chasis was locally manufactured in 1914 by Ferrocarriles Entre Ríos, the wagon number 671 was a sleepling wagon owned by Ferrocarril del Oeste and it was specially made for them in Birmingham in 1914. The Dining cars number 5560 and 546 were made by the English brand Glousester and the chasis was fully made in Ceder and Mahogany. This specific information shows the class and confort offerd in this trains. AS to the ride, the sights are just incredibly beautiful, there are many stops so one can enjoy the amazing views and scenes. A perfect ride that combines the perfection and style of art and antique and the beauty of nature. The last stop in our train tour, and a must when visiting our Argentinean trains is the Tren del fin del Mundo, is the most southern rail system in the world, and one of the smaller cross paths. This the Ferrocarril Austral Fueguino was the first tourist train to be built in Latin America. This incredible amazing train runs through the same rails that the one who long ago carried prisoners to the maximum security prison in Ushuaia –now closed-. Far from the image of a prisoners train, this train is an outstanding and chick train, with all the top of the top commodities specially arranged for the passenger's delight, specially with those rearanged big windows to enjoy the sights. As well as the two locomotives, diesel and steam, two true beauties. The station of the End of the world is located 8 km west from Ushuaia, that is the starting point of an amazing and ecological journey to the most southern train station in the world in the National Park of Tierra del fuego. The journey is beautiful, the sights, the places, nature's treasures are exhibited in all their greatness. Just before arriving to our last stop, the curve the train takes opens up into thick woods cohiues and lengas, local millenary trees. There is no better ending to a wonderful and amazing trip.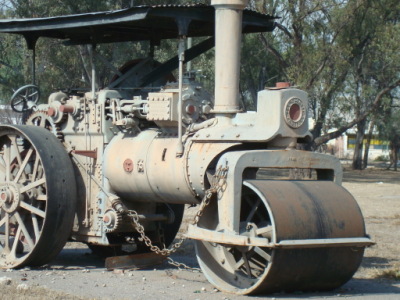 Steam Rollers we find and sell Old Glory Machines and Old Steam
Bob Frassinetti: For more information:
Email: Bob Frassinetti.
Press here to go back to web blog:
Daily Updates on Art, Antiques, Collectibles as well as travel information for Buenos Aires, Argentina.
Phone me thru Skype, ID: Bob Frassinetti. Updated 2009 Copyright Bob Frassinetti, travelling for arts and antiques in the south of South America,....... Bob Frassinetti, art and antique dealer and nomad traveller as well as free lance journalist photographer, working on the web, writing both for pleasure and work on art, antiques and collectibles, in and on Buenos Aires, Argentina and neighbouring countries, Chile and Uruguay. "I've written for several Travel Adventure, Art & Antiques Magazines on and off the web and have researched Vintage Tractors to Antique Cars made or found in Argentina, Travel Adventure, to Toys made in Argentina, and now for the upcoming Dakar Rally 2010 to start here in " Buenos Aires, so for Everything on Art & Antiques as well as Travel Information for Buenos Aires and Argentina by Bob Frassinetti" So if you are interested in Art or Antiques, and you are travelling to Buenos Aires, or to other parts of Argentina, like Rosario, Entre Rios, Cordoba or Mendoza, please feel free to email me, I travel all Argentina, Chile, Paraguay, Uruguay, Route 40 Argentina, Ruta 40 Argentina, Buenos Aires, San Telmo, Flea Markets, Travel Adventure, Travel guide mentioned in Lonely Planet, as well as Lighthouses Tours or the fantastic Provincial Route 14, Tras la Sierra in Cordoba, I can help, from Guided Tours to Exporting Antiques and Art …….. and what about Collectibles and just to mention some like Advertising, Advertising Art, Architectural, Art Deco, Auto Parts, Badges, Banks, Beswick, Bottle, Bottle Openers, Bronze, Button, Calendars, Candy Containers, Carnival Glass, Chandeliers, Christmas, Coca Cola, Corkscrews, Elvis Presley, Ethnic Art, Ethnic Toys, Fans, Fishing, Fishing Reels, Folk Art, Francisco Adaro, Furniture, Harmonica, Lamps and lightning items, the wild 60's and 70's, Garden Furnishing, Girl Scout, Glass Art, Glass Contemporary, Golf, Halloween, Inkwells, Insulators, Ivory, Japanese Woodblock Prints, Jewellery, Judaic, Kitchen, Knife, Lanz Bulldog Tractor, Lamps, Lighters, Lightning Rod , Majolica, Match Holders, Medical, Motorcycles, Music, Napkin Rings, Nautical, , Nutcrackers, Paintings, Liberato Spisso, born Buenos Aires, Argentina. 14 March 1903, Portrait Artist, Viski, Jean ( Janos ) 1891 - 1961, Old Car, Paper, Paperweights, Pens, Pencils, Pencil Sharpeners, Pepsi Cola, Perfume Bottles, Pewter, Phonographs, Photography, Postcards, Pampa Lanz Tractor, Posters, Prints, Radio, Railroad , Records, Steam Tractor, Scientific Instruments, Sewing, Sheet Music, Silver, Souvenirs, Sports, Stereo Cards, Stereoscopes, Telephones, Television, Tools, Toys, "The Buenos Aires Toy Museum. Argentina", or a Tractor, Typewriters, Watch, Weapons, Weather Vanes, Wood Carvings, Wooden, World's Fair, to say Vito Campanella and other South America known contemporary Artist Bob Frassinetti: For more information:
Email: Bob Frassinetti.
Press here to go back to web blog:
Daily Updates on Art, Antiques, Collectibles as well as travel information for Buenos Aires, Argentina.
Phone me thru Skype, ID: Bob Frassinetti. Updated 2009 Copyright Bob Frassinetti, travelling for arts and antiques in the south of South America,.......