Steam Rollers, Steam Trains and Steam Tractors from Argentina, selling all Steam Engines from Argentina, tarctors, old and vinatge, rare engines froun in this part of South America, Argentina, Chile and Uruguay,..... Argentina is a country whose communication system's foundations have been layed down in rail systems' blueprints. All through our history trains have been an indispensable factor, for production, leisure, communications and tourism. Firstly layed down for productive purposes, these rails have rapidly been also used to put our natural beauties in contact with those curious and adventurous travelers. And the result has been just awesome, because the possibilities of accesing some of this georgeous places are very much limmited because of the complex geography. Up in the northern part of our country, limmiting with Chile and Bolivia, there's one of the worlds most beautiful places: the Quebrada de Humahuaca. Before colonial times, this area was a very important part of the Inca Empire, for it's a one of a kind oasis in the middle of the arid puna, the Humahuaca valley is very fertile area surrounded by some of the highest mountains in South America, the Andes. Even during colonial times people in this places kept on working their lands as their forefathers did for many generations. Colonial authorities exploited other natural resources such as cole, silver and copper mines as well as sugar cane production. These two production systems still coexist to our days. The need of communications in times of the Independence brought the rail system to this area. The objective was to establish a fluent communication with Chile's mine's production. The result was the amazing Tren de las nubes, train of the clouds. This train was built in several stages between 1921 and 1948, by more than 3,000 workers. More than 500 km of rails open the path to an amazing journey through the clouds. La polvorilla is the last stop of the tour, running at more that 4000 mts of the sea level the train appears to ride on air as it crosses the viaduct of the same name. The journey is a lifetime experience and can be done all year long –although during winter there are some parts that are not available-. All ten couches are moved by the diesel locomotor. Comfort, a must in such an amazing experience, is also very taken care of, so that we, passengers can enjoy the ride without having to worry about anything. There are no words to describe this experience –believe me, I see myself as a very expressive person but that journey left me speechless… However the full smile on my face and the glowing in my eyes showed my inner happiness and astonishment in front of one of the most beautiful experiences ever. An other incredible train ride in our country is also in the northern area, but this time in the eastern part, in the border with Brazil. The rain forest train, tren de la selva, runs all the way through the National park of Iguazú, to one of America's greatest falls: the Iguazú Falls. The beauty of this place, one of nature's outstanding pictures, in the middle of the rain forest, this gigantic red watered falls (the ground in this area is reddish, very brick like because of its particular chemical composition) are just a beautiful spectacle available all year round, though in summer the temperature can easily reach the 45°C, all the rest of the year this area has a very warm weather. Nonetheless, the heat, the area is very well prepared to receive visitors from all over the world, therefore when visiting Iguazú there are many outstanding accommodation options –all includded as well as spa resorts- that would make you feel very much at ease. Traveling south from Buenos Aires, there's a must for all of those who want to travel through our Patagonia. Worldly known because of its cross path, short cut super economic: La trochita (short of Trocha which is Spanish for cross path). This 75 cm. cross path rail was began to construct in the early years of the 1920s, though its construction was delayed due to climate inconveniences. By 1936 it began to run through its amazing 402 km. This train had ups and downs regarding governmental policies, and it was closed many times. But thanks to the hard work of the authorities of the province of Chubut, the train is still alive and running, not through the original 402 km. But through 165km. Of beauty, through Esquel. Lepá and El Maitén. This train is not only a circulation service to witness amazing sights, but living history. The wagons in which we ride are the original 1922 ones, that are heated by antique salamanders regulated by the passengers to their preference. The whole train is an antique treasure that we have the pleasure to enjoy, even the locomotives, one of the two available is a Baldwin Locomotive Works, American, class 75 B with 431 hp of power; the German Henschel, class 75 H with 411 hp of power. There's also a moanouver locomotive class 75 M, made by Henschel y Sohn. An other train treasure of the south is the historic steam train that rides in the sorrounding area of the Nahuel Huapí lake in the internationally renamed sky resort, Bariloche. Very much a rolling museum, this train was manufactured in Scotland in 1912 by the North British Locomotives company in Glasgow plaque number 121, the wagons were originally made in England, in an outstanding art deco style, made out of Cedar and Mahogany. All seats are covered in red and green velvet in the 667 wagon that was made in 1914. There are wagons that had been specially made for the important managers of some of this British trains and their family. The wagon booked for the family number 677 was specially made for them in England in 1913 and it has three bed rooms, kithcen, bathroom and a special room for the help that travelled along. Tourist class wagons number 128 was made in Glousester; the pine chasis was locally manufactured in 1914 by Ferrocarriles Entre Ríos, the wagon number 671 was a sleepling wagon owned by Ferrocarril del Oeste and it was specially made for them in Birmingham in 1914. The Dining cars number 5560 and 546 were made by the English brand Glousester and the chasis was fully made in Ceder and Mahogany. This specific information shows the class and confort offerd in this trains. AS to the ride, the sights are just incredibly beautiful, there are many stops so one can enjoy the amazing views and scenes. A perfect ride that combines the perfection and style of art and antique and the beauty of nature. The last stop in our train tour, and a must when visiting our Argentinean trains is the Tren del fin del Mundo, is the most southern rail system in the world, and one of the smaller cross paths. This the Ferrocarril Austral Fueguino was the first tourist train to be built in Latin America. This incredible amazing train runs through the same rails that the one who long ago carried prisoners to the maximum security prison in Ushuaia –now closed-. Far from the image of a prisoners train, this train is an outstanding and chick train, with all the top of the top commodities specially arranged for the passenger's delight, specially with those rearanged big windows to enjoy the sights. As well as the two locomotives, diesel and steam, two true beauties. The station of the End of the world is located 8 km west from Ushuaia, that is the starting point of an amazing and ecological journey to the most southern train station in the world in the National Park of Tierra del fuego. The journey is beautiful, the sights, the places, nature's treasures are exhibited in all their greatness. Just before arriving to our last stop, the curve the train takes opens up into thick woods cohiues and lengas, local millenary trees. There is no better ending to a wonderful and amazing trip.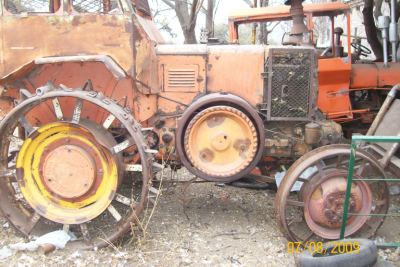 Also Pampa Lanz Tractors
Antiquing in Buenos Aires by Bob FraBob Frassinetti: For more information:
Email: Bob Frassinetti.
Press here to go back to web blog:
Daily Updates on Art, Antiques, Collectibles as well as travel information for Buenos Aires, Argentina.
Phone me thru Skype, ID: Bob Frassinetti. Updated 2009 Copyright Bob Frassinetti, travelling for arts and antiques in the south of South America,....... ssinetti. Rare and incredible objects, furniture, books, toys, artworks… all those antiques and collectibles you dream of can be found in Buenos Aires. Once upon a time Buenos Aires was a very small port city with very little population surrounded by one of the world's most fertile lands. Not too far away there were several other populations with very different traditions to the Spaniards who had populated this portside area. As the city grew and the Porteñan society evolved many Europeans chose Argentina to be their home. They immigrated with all their possessions from every corner of the old continent. This flow from Europe to Argentina first began in mid 19th century, and has never stopped till now. At the same time, as the world evolved –wars, economical possibilities, inspiration, were many of the causes that help other people chose our country as their own. All of these new immigrants that were coming from Europe (Western and Eastern), Middle East, Asia and Africa, as well as many other Latin American countries, brought with them all kinds of objects, from paintings to mirrors and combs, from decorative items to all kinds of furniture, and so on. This brief history of immigration in Argentina might help those that don't know our country to understand a bit about the eclectic variety of items that can be found in this beautiful city that is Buenos Aires (specially Buenos Aires because it has always been the main gate to our great and beautiful country). Many of them were brought in immigration ships, many others were sent to these families from their homelands, some others were imported, and some other ones were the result of business among relatives who lived in their homelands and these new immigrants that were building a life in our Pampas. Those valuable family objects some times due to hard economic situations, or may be because there was no one to inherit them, have taken a path towards flea markets, auctions or antiques shops. During the last few years there has been a huge turn in our economy, the peso (local currency) has lost much of its value in relation to the dollar and the Euro, this situation has impacted in many areas of our everyday life. On the dark side one of the biggest consequences of this economic shift has been an intense flow of goods towards all kinds of markets, in order to keep on with a certain lifestyle. Therefore many families have found themselves in a situation were they had to sell many of their family's goods. On the bright side this new valuation of the peso has made of Argentina a more appealing place to visit for foreigners, since its much cheaper than many other big international metropolis though still shows all its splendor in its culture, art, fashion and good sense of living. Our local flea markets, open fairs and antiques shops are open history books that show this turns in our lives. Plus, these are excellent places to shop for those items all art lovers dream of, as well as an excellent opportunity for art dealers that wish to offer their regular clients high class items at reasonable prices. One of the most beautiful open air markets in the city is in the historical neighborhood of San Telmo, that's open all day during Sundays, from very early in the morning to late in the afternoon. Surrounded by countless antiques shops that open their doors to the public all week long, this fair is just beautiful, with very good quality items… Bargaining is always an interesting possibility when acquiring these type of objects, always a plus to get what you want at the price you want to. In the outskirts of the city, the Solano fair is one outstanding market where if you have a sharp eye for antiques you can find absolutely amazing treasures. Since this fair is very much for locals you can find all from old clothes, semi used house goods, and whatever people had and needed to sell… Its always better to visit this outskirts out of the tourists path fair with a local, best if you know what you want but don't have much time and your Spanish is not very good. Back to the city, one excellent flea market is the Dorrego Market, in the heart of Palermo, very nearby a great restaurants area, this market has all kinds of items. Its just a matter of walking around and talking with the local people that are very kind and would gladly help you in your quest. On the other end of the city, during the weekends there's an other kind of flea market in Peru abajo. Located in the beautiful residential area of Acasusso you will find this fair has all kinds of decorative items and furniture, one of its specialties are chandeliers at very reasonable prices… High class and good prices, one excellent combo! These are the most representative fairs and markets in BA. There's nothing you can't get, you name it, they have it… And of course, these are excellent sights when touring through the city of tango, 'cause there are many different street shows that weekly chose those locations to show their art: tango, puppeteers, street theatre, live music, plus all kinds of local street food to enjoy during your walk, there's no way that can go wrong! Meantime, ............... Read daily Up Dates on Art and Antiques for Buenos Aires, Argentina http://www.frassinetti.biz Argentina also exports antiques over 100 years old with the help of Bob Frassinetti Read all about the South of South America, Argentina, Chile and Uruguay on this link. Updated and new web site, The Buenos Aires Toy Museum, Argentina www.the-ba-toymuseum.com Chat some more soon, ................................ Bob Frassinetti.