San Telmo,flea market,Feria de San Telmo, a touristy antiques market that fills the Plaza Dorrego with stalls heaped with all kinds of antiques, colletibles from costume jewelry, to vintage movie posters, toys made in Argentina and gorgeous Art work from all over the world.Open every Sunday.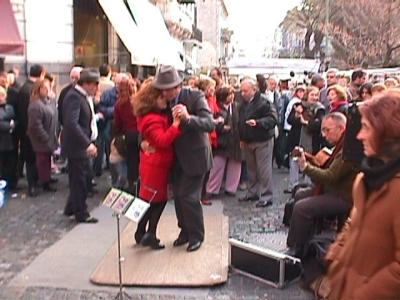 Dancing Tango San Telmo
Interested in buying antiques and collectibles from Buenos Aires or for that matter any other item that I have mentioned in any article you have found on this my web site, you can buy Toys from my museum and thru my eBay, at the Toy Museum on eBay press here;
Toy Museum on eBay
or thru The Buenos Aires ArtDealer, press here;
Art Dealer on eBay
From Art to Antiques. Or contact me direct. For more information at:
Email Bob Frassinetti. Press here to go to The Buenos Aires Art Dealer, webzine magazine on Art, Antiques & Collectibles made or found in Argentina. The Buenos Aires ArtDealer, Argentina. Bob Frassinetti. Copyright 2005. Roberto Dario Frassinetti. Argentina.