Recoleta Cemetery Buenos Aires. It's not very often that a Cemetery would feature as a touristy must-see, but the necropolis at Recoleta is an astonishing exception to the rule. Recoleta is Buenos Aires ritziest and wealthiest neighborhood, with superb old mansions along the Avenida Alvear. Nowhere is this elitism better displayed than at the resting ground of the rich and famous at the Recoleta Cemetery.
Email: Bob Frassinetti.
Art Dealer & Journalist.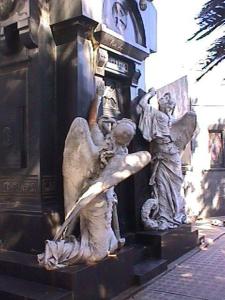 The story behind Buenos Aires most famous cemetery
Soon came the Independence revolution. Argentina was to become a nation and the nation was to be built under strong principles. The Recoleta as a catholic order, left Argentina and returned to their motherland… their lands were set apart by General Marin Rodriguez, Don Bernardino Rivadavia's ministry, to work as the first public cemetery in Argentina in November 17th 1822. Only 24hs after the order, the first two honorable burials took place Juan Benito and Maria Dolores Maciel. A href="mailto:admin@frassinetti.com">Email: Bob Frassinetti.
Art Dealer & Journalist.
Bob Frassinetti, art and antique dealer and free lance journalist photographer, working on the web, writing both for pleasure and work on art, antiques and collectibles, in and on Buenos Aires, Argentina and neighbouring countries, Chile and Uruguay. "I've written for several Travel Adventure, Art & Antiques Magazines on and off the web and have researched Vintage Tractors to Antique Cars made or found in Argentina, Travel Adventure, to Toys made in Argentina, and now for the upcoming Dakar Rally 2010 to start here in " Buenos Aires, so for Everything on Art & Antiques as well as Travel Information for Buenos Aires and Argentina by Bob Frassinetti"