My name is Bob Frassinetti. I'm now in my early fifties and because I love art and antiques I've been developing several collectibles oriented projects during the last 10 years. The first project I began to work on was the toy museum. I found myself finding in flea markets, fairs and old toy shops beautiful and rare toys made in Argentina about which there was no information available. I looked everywhere until I found out that I couldn't find it 'cause it didn't exist. All the amazing Argentine made toys I collected were made during the 50s, 60s, 70s and 80s, and unlike other countries in the world who worry about their history and cultural legacy, we –as a society- have let them in forget. So at the same time I collected vintage and antique toys I began to develop a research group who was in charge of finding all loose pieces available to complete the puzzle of the Argentinean toy industry's history. The result has been so far not only encouraging but amazing, for besides of understanding the true nature of some of our most marvellous items, I've had the pleasure of meeting and interviewing many of the most outstanding Argentinean industrials. The Museum has grown ever since I blended the objects with the information about them. And it has become to be the first virtual museum on Argentinean toys in the country and in Latin America. The feedback we've received throughout these incredible years of hard and hearted work have gave us strength and passion to keep on developing what so far is has come to be a brilliant idea. At the same time the Museum grew and I began to discover the richness in Argentina's cultural and social history through means of one of its material productions: toys. A ticking question my toy oriented research unveiled was that every culture reflexes their vision of the world through their objects, and I found out that many American models that were been produced in Argentina were been adapted to the Latin American cultural public. So I began to wonder about how an immigrant built country's objects would reflect this, and it has been quite a great surprise, the blend of the indigenous, colonial and immigrant cultures is superb down here and the objects these past generations have left us are outstanding. This is how Art Dealer, as a cultural and collectibles project began. My initial knowledge of art and antiques, and my experience with cultural research at the Museum were the foundation for Art Dealer to begin to grow. At the same time, as I kept on travelling through the bewitching scenarios of the beautiful Argentina I began to understand a bit more about that eclectic and gorgeous culture that intrigued me so much about the objects of our forefathers. Precious treasures; hidden under the everyday life's chores. To me this has been a discovering experience that has filled me with joy, and keeps on surprising me every day as a young child who begins to open up to the world's marvels. When Argentina, during the 2001 crisis, began to open up to travellers from all over the world, who were coming to discover this wonderful place, I thought I had to share my experience with those who cherished culture, travelling, and discovering as much as I did. I also thought that if I were to travel overseas I'd love to do it the way the saying says: When in Rome, you do what Romans do… and nothing better than a Roman to show you how. To share my knowledge and discoveries, I design custom made tours, not only 'cause I like to work on a personal basis, but because I deeply believe each of us is unique and has different interests and passions and mass produced standard culture leaves out –some times- very important things. And for Buenos Aires, as every other metropolis has something to offer to each and every one of us, likewise Argentina. Seven years have gone by now since I've began to picture this broad cultural project, and each and every one of the days I've worked to develop my idea have been amazing, with its ups and downs, inputs and changes of direction. I'm very glad and grateful to be able to do what I love most and to be able to share it with others who, as myself find this lifetime experience unique and beautiful. For more information:
Email: Bob Frassinetti.
Press here to go back to web blog:
Daily Updates on Art, Antiques, Collectibles as well as travel information for Buenos Aires, Argentina.
Market Place Argentina: Follow Link and Join
Bob Frassinetti, The Buenos Aires Artdealer NET
Travel Guide for Art and Antiques in Argentina
|
Promote your Page too
Bob Frassinetti
|
Create your badge
Updated 2012 Bob Frassinetti Copyright Roberto Dario Frassinetti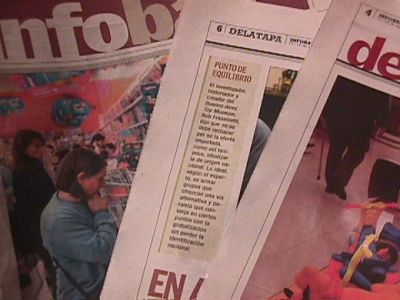 Questions by Cristina Galasso for Infobae, diario, Argentina
Punto de Equilibrio. Ud. menciona en la historia una serie de empresas nacionales que Marcaron un hito. ¿quienes sobreviven en la actualidad?¿Por qué? En general los hitos nacionales en lo que a juguetes respecta no han sobrevivido a las sucesivas crisis económicas de nuestro país, en muchos momentos han sido desplazadas por la apertura indiscriminada de la importación sin ofrecerles a estas pequeñas y medianas empresas ningún tipo de protección . Productos de altísima calidad estética y de gran valor didáctico han desaparecido del mercado de juguetes y luego de varios años han reingresado al mercado nacional y al mercado internacional como piezas de colección justamente por estas características esenciales que las diferenciaba del resto. Sin duda este es el caso de los autitos diecast de Buby que desde los años 50s hasta los primeros años 90 –con altibajos y entradas y salidas cíclicas al mercado nacional- eran el juguete preferido por los niños argentinos y que pronto se convirtieron en el coleccionadle más buscado y apreciado de producción nacional en el ámbito juguetero. Sin embargo, hay ciertos hitos nacionales de la industria juguetera que han sobrevivido porque han sabido y han podido tener el suficiente margen de maniobra para adaptarse a nuevos tiempos una vez capeada la tormenta. Como puede ser Top Toys, para el caso de los Action Figures y de los juguetes de niñas de los años 80. Que si bien comenzaron produciendo para el mercado nacional piezas de patente extranjera como He-Man, Star Wars, Pequeño Pony, Frutillitas, han sabido desde un principio adaptar las versiones extranjeras a las demandas del mercado local. Este tipo de piezas si bien conservan las características generales que presentan en los países de origen muestran algunas adaptaciones locales realmente ingeniosas. Si bien esta característica estaba presente desde los primeros momentos de producción, se ha pronunciado aún más en el último tiempo, ya que los años recientes han sido testigos de su reingreso al mercado local reconvirtiendo moldería original a las demandas de las nuevas jóvenes generaciones. En muchos casos, estas empresas que se han reconvertido han perdido el trade-mark original justamente debido a las peripecias del mercado y en la actualidad producen bajo otras razones sociales y nombres comerciales. En otros casos, como los autitos Duravit que antaño eran de caucho sólido, conocidos como los irrompibles, han mantenido la temática y la orientación a la franja más joven del mercado juguetero, pero han reconvertido sus productos de caucho a plástico duro liviano, manteniendo una alta y positiva competitividad respecto de productos manufacturados en el extranjero (tanto en Brasil como en China). Desde mi punto de vista, la clave que explica el éxito de estas permanencias es la posibilidad de adaptación y reconversión en un mercado cambiante, no solo debido a causa de los bruscos movimientos del mercado productivo local íntimamente ligados a las líneas de acción trazadas por la economía nacional, sino también a causa de la mutación que ha ocurrido en el publico consumidor desde la irrupción de la electrónica y tecnología de punta en la juguetería. Como especilísta, ¿cuál es el impacto más perjudicial de la falta de juguetes con iconos nacionales? La falta de juguetes que expresen íconos nacionales tiene que ver con la propia mutación de dichos íconos. En este momento los íconos e ideales de la juventud -incluso la más joven- están en gran medida globalizados y reflejan un estado de la cultura global que si bien toma lo particular no toma lo específico en cuenta. Es decir, que si bien hay una posibilidad de reconocimiento de lo propio en lo global no expresa lo particular del ser argentino. Puede ser que en este sentido, la pertenencia y el reconocimiento del prójimo en el marco de lo nacional se halle desvirtuado a falta de referentes inmediatos. Sin embargo no consideramos que estemos frente a un callejón sin salida. Si en efecto asistimos a una crisis de identidad en el marco de este mundo que se ha globalizado cada vez más, es nuestro convencimiento que no se debe rechazar per se lo existente, sino que más bien se tienen que armar grupos que (frente a este estado de las cosas) ofrezcan una vía alternativa y paralela que converja en ciertos puntos con la globalización a la vez que - sin idealizar lo nacional- puedan hacer juguetes con identificación local. No es necesario aislarse de los movimientos generales que están marcando el tempo de la industria juguetera para transitar estos pagos. Y en cierto sentido la Argentina y sus jóvenes diseñadores y programadores han comenzado a sentar las bases para este proyecto ya que el desarrollo de juegos electrónicos argentinos es un boom, los programadores locales han dado finas pruebas de sus capacidades técnicas y de diseño, sin embargo han focalizado en modelos extranjeros en vez de tomar personajes nuestros. Es por eso que nosotros desde el Buenos Aires Toy Museum proponemos realizar un proyecto de investigación en profundidad para descubrir cuáles son los personajes nacionales que pueden generar identificación entre las jóvenes generaciones y de este modo potenciar un sentir que ha sido relegado hasta ahora al pasado. Creemos necesario partir de este presente y proyectar –en los términos de los tiempos que corren- hacia el futuro las variadas formas de ser Argentino, no idealizadas ni estilizadas al extremo, sino propiamente caracterizadas y enriquecidas a partir de las potencialidades propias de nuestra cultura. Saludos desde Martinez, Buenos Aires, Bob Frassinetti.
Email: Bob Frassinetti.
Art & Antique Dealer & Journalist working from the south of South America.
For more information :
Email: The Buenos Aires Toy Museum,Bob Frassinetti.
Press here to go to the Toy Museum :
The Buenos Aires Toy Museum,Argentina.
Bob Frassinetti. Copyright 2005. Updated in 2009, Buenos Aires, Argentina. Roberto Dario Frassinetti.