Monique Rozanes is a brilliant contemporary artist. Active and innovative Monique is a fine example of modern and edgy artists who -as many brilliant minds and hands- were not taken as seriously as they should have by their contemporaries but, no doubt about it, are a turning point in terms of modern aesthetics and sculptures. We shouldn't be foolish, we should learn from history that it not convenient to let time go by in order to appreciate superb artworks. We would like to point out that she's not an anonymous artist, she has many years of working and exhibiting in world wide museums, showrooms and Art Galleries.
Email Bob Frassinetti.
The Buenos Aires Art Dealer,Argentina.
Bob Frassinetti. Copyright 2005. Roberto Dario Frassinetti.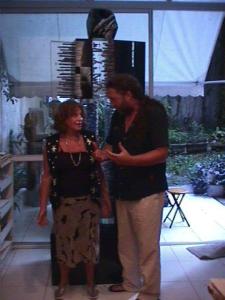 Monique Rozanes and Bob Frassinetti
Monique Rozanes and Leopoldo Torres Agüero shared their life and passion for Art. Both incredibly talented artists created -each in their own way- a breakthrough in the contemporary art scene in Buenos Aires and Paris. Their paintings and sculptures are the result of a wise and avant-garde work of color, texture and shapes inviting the spectator to feel the artpiece through means of it's senses and the impact of the wholesome art creation. An introspection to share, emotions, times, colors, perspectives and shapes inviting the "outsider" to take part of a world of senses and emotions often reserved for those "in the matter", the technique is the mean throguh which they share their imagination and artistic impulse with us. These are some of their works. meet the artists and enjoy!
Email: Bob Frassinetti.
Art Dealer & Journalist.