Leather Hand Bags made in Argentina ........... So Fashion and Design is a big city option here in Buenos Aires, we'll take you shopping in Buenos Aires to those incredible Argentinean Design and European stores, where you'll be able to buy those exquisite designs in local pesos, sight seeing will be organized regarding your interests, so there's no need for you to walk through the city like a regular tourist, but to visit those incredible places you love and have an excellent time out and get to know the city like we do, like a local, a native. One of the options is Florida Street, is one of the world's most important pedestrian streets. This promenade is one amazing shop windows for leather goods of all kinds. Jackets, shoes, purses coats and all kinds of design items of the highest quality can be bought in this area. Our local designers -many of the best of them- have chosen this street to exhibit their creations. Prices are very accessible and quality is just over the top! Leather shopping is a must when in BA, for this capital city is not only the city of tango but also the head of a nation built upon what has always been our national industry, cattle growing, so leather goods and handcrafts have evolved together with our society and its passion for fashion and high class aesthetics.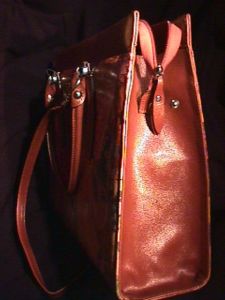 All exclusive all leather hand bag Floral Designed Leather Pattern exclusive to Fashion here in Argentina ….
So if you are interested in Art Fashion or Antiques, and you are thinking of travelling to Argentina Chile or Uruguay please feel free to email me…….. Please feel free to contact Bob Frassinetti: For more information:
Email: Bob Frassinetti.
Press here to see all topics on Art, Antiques and Travel Information for Buenos Aires & Argentina:
Everything on Art, Antiques, Collectibles as well as travel information for Buenos Aires, Argentina, Chile and Uruguay.
Phone me thru Skype, ID: Bob_Frassinetti or you can also chat with me thru Yahoo, press here:
Yahoo Contact
Find me on MySpace and be my friend!
Or Phone: +54 911 4475 3983 or in B's A's: 15 4475 3983 ) Invest in Argentina Real Estate an uprunning opportunity with a Future Read The Buenos Aires Art Dealer a e-zine magazine on Art, Antiques & Collectibles from Argentina.
The Buenos Aires ArtDealer, Argentina.