Interested in Food and Wine. Today Panckes,.... Making pancakes Always been told that breakfast is the most important meal of the day. Not only important but of great variety and flavours. Lunch is salty, tea sweet and dinner or supper also salty with some kind of reward as desert. However breakfast is that meal when sweet, salty, spicy and mellow flavours work altogether awaking our senses and inviting us into a world of culinary experiences. I'm a citizen of the world in spite of the fact that I live in Argentina. I've travelled and lived in wonderful and exiting cities and explored all different cultures specially through means of its cooking. Each country and culture has its own particular way of beginning the day. Coffee and toasts, scrambled eggs, all sort of fresh fruit, pancakes, sausages and mushrooms, croissants, bacon and... the list could go on and on for ever. And as a citizen of the world I've picked up the things I love the most about each culture I've got to know and incorporated them to my palate and share them with those I love. Pancakes is one of those simple and exquisite dishes-cook's creations I've loved ever since my first bite. To those who don't share my delightful passion, I must tell that a pancake is not just a pancake... Types, flavours, shapes, fillings and toppings... everything changes from culture to culture. Take for example the American pancakes, thick pile of delicious hot cakes topped with butter and honey or syrup, then fly to France and experience sweet and/ or salty Jumbo Size Crepes, filled with jam and cheese and mushrooms, or hot chocolate and chestnuts, made on the street by the Louvre museum folded into a triangle... In Britain, sugar and lemon added once you flip them, on the pan... And soon we arrive to Argentina. Our pancakes are filled with one the greatest sweet inventions: Dulce de Leche, a sort of sweet milk jam –also known as manjar blanco in other Latin American countries ... but this has a different taste to the Argentinean one. Thin crepes, or thick hot cakes, a spoonful of dulce de leche on top, once still in the pan, for it to warm up and melt a bit.... then a superb cup of coffee... sit back and enjoy one of life's greatest pleasures! These superb pancakes I frequently enjoy for breakfast when there's no hurry, on a rainy Sunday... For my birthday in bed... But it's not just a breakfast thing to eat... it's just that this sort of breakfast makes me start the day in the best mood, heart, soul and tummy happy! Bob Frassinetti: For more information:
Email: Bob Frassinetti.
Press here to go back to web blog:
Daily Updates on Art, Antiques, Collectibles as well as travel information for Buenos Aires, Argentina.
Phone me thru Skype, ID: Bob Frassinetti or you can also chat with me thru Yahoo, press here:
Yahoo Contact
Find me on MySpace.
Updated 2009 Copyright Bob Frassinetti, travelling for arts and antiques in the south of South America,.......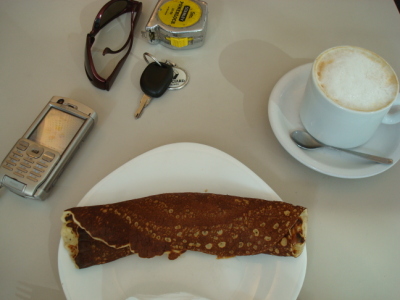 Pancakes in Argentina, Check Map,.........