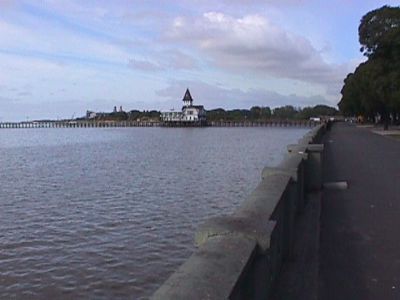 The Fisherman's Club of Buenos Aires
The first Fishermen's Club was located at the end of an old wharf that was christened as the Frenchmen pier, because it was a French coal company the one who built it during the late 19th century. However, the first building was destroyed back in 1905 during a huge south storm known as Sudestada. The lack of a Social Club was strongly felt by the club members, and in 1926 they decided to build a new social club. Its pier was the first construction, sort of a preview of the new airs blowing in the city, it was a 512 meter pier made out of concrete and iron. The new club would find its place at the beginning of the pier and it will open in January 1937. The project of building the clubhouse was directed by the Engineer Quartino and carried on by Zarattini Constructing company. The Clubhouse's design leitmotif was a Tudor picturesque interpretation, based on a symmetrical structure base that was the wharf. The building is a wonderful example of the Argentine architectural development where the colorfulness of the style and the design is faithfully captivated in an ambiance of nature and sophistication so in tone with the spirit of the Fishermen's club. This superb building has a lateral tower that can be understood as a synthetical example of the design's style, as its end-top is embellished by a medieval needle. Its facade is gorgeously decorated with English neo-medieval architectural resources blended together with a couple of modern Art Deco winks that provide the building its own sense of uniqueness. Today, this building is not only the main house of the Fishermen's Club and home of a superb restaurant, but also a National Historical Monument protected by the Argentine government because of its historical and testimonial references. The Fishermen's Club of Buenos Aires is a sophisticated social environment for those individuals who have that special and particular bond with the world of the sea and the River. Placed in the heart of the River Plate, the main clubhouse faces the heart of one of the world's largest rivers as well as the Uruguayan coastline of Colonia. Muelle del Plata is the name of the Restaurant that opened in 1999 to delight club members and visitors alike with some of the finest specialties and a superb service, in a picture perfect environment for the romantics, the bon-vivant and the very special souls… Bob Frassinetti: For more information:
Email: Bob Frassinetti.
Press here to go back to web blog:
Daily Updates on Art, Antiques, Collectibles as well as travel information for Buenos Aires, Argentina.
Phone me thru Skype, ID: Bob Frassinetti or you can also chat with me thru Yahoo, press here:
Yahoo Contact
Find me on MySpace and be my friend!