Francisco Adaro, erotic art.Year, 2004. Updated 2012 Buenos Aires, Argentina. For more information ;
Email: Bob Frassinetti.
Press here to go back to the Buenos Aires Artdealer for iPhones, iArtdealer;
Art Dealer & Journalist.
Bob Frassinetti
|
Create your badge
Market Place Argentina: Follow Link and Join
Bob Frassinetti, The Buenos Aires Artdealer NET
Travel Guide for Art and Antiques in Argentina
|
Promote your Page too
Updated 2012 Bob Frassinetti Copyright Roberto Dario Frassinetti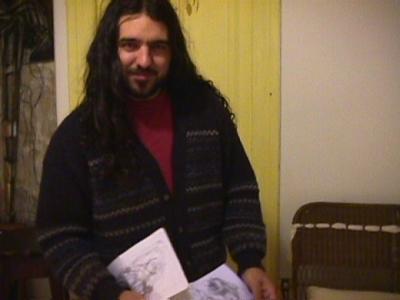 Email Bob Frassinetti.
The Buenos Aires Art Dealer,Argentina.
Autobiographical synthesis by Francisco Adaro (Changáa) I had to go to the goalie or sit in the bench. I express myself through images using a variety of techniques I write in order not to suffer from insomnia Born in 1978 in Buenos Aires. Argentinean. From a genealogical mixture similar to the one in tango. I quit smoking on a Friday. Images, words, memory and oblivion grow inside me; histories that climb as questions that entangle in the ceilings of constitución. I deliver sugar and salt in my three wheel motorcycle that also works as an ambulant "national show room". I live in the bottom of a pit with three cats and a winged witch. I wanted to be a musician and a poet I was a gardener and a delivery man, and they nicknamed me "chagaa" (Spanish slang for someone who works in whatever is available and needed) Now I love olives and electronic tango I've always loved spring, tropical shirts and parties. I draw impatient and violent I drive through the city during the morning I write fragments in pieces without watching any order,overwhelmed with motives, senses and sensibilities. I draw because Im physically impelled to do it I accumulate papers and select shapes At night I cook Thanks to the art work I was never bored I try to be honest to the spectator using my own language and not his I dont want to paint what others want to look at, but to watch me in my own reflection. Living together with my ghosts and guilts, and showing it barefaced Between 1994 and 1999 I worked together with a wide range of social,cultural and political organizations, this had a radical impact and influence on my thoughts and my retinal experience I learnt a lot from many people, I had the opportunity of studding with Susana Fedrano and Enrique Morales. Since 1994 Ive been developing many investigations on mural art and public monumental art considering their formal, conceptual and technical aspects.