Crónicas del diseño industrial en la Argentina ......BA city of Design: an insight on one of its most creative masters, Ricardo Blanco. Ricardo Blanco is the author of the book entitled Crónicas del diseño industrial en la Argentina – Chronicles of the Industrial Design in Argentina-, where he reconstructs the path of evolution thru means of a particular historical perspective and journey Ricardo Blanco is one of Argentina's most prestigious industrial designers as well as a brilliant architect and professor of the University of Buenos Aires' Faculty of Architecture, Design and Urbanism. Blanco is also the curator of the Design section of the Modern Art Museum of Buenos Aires. No doubt about it, Blanco has an impressive resume which we would quote in a broader version at the end of the article… All in all, Blanco is a man of design and an obsessed man of design about chairs. Yes, Chairs. That particular kind of object that's part of our every day life, which we use millions of times a day, that particular object caught his attention once upon a time and he hasn't stopped thinking about it ever since. A chair, he says, is something you sit on, it is –no doubt about it- a useful object, and he manages to take it to an other dimension. "My body reacts to what it sees, and those subtle things are what make this game a passionate activity" Chairs can be found in cultures dating of 7000 to 8000 years, and the mind-blowing thing is that this simple yet interesting object keeps on reinventing itself. A simple chair can be a throne, a jur dock, an electric chair, a gynecological chair, a rocking chair… A chair is in a way a synthesis, an edge depending of its meaning. This is something Blanco learnt from his teachers, his masters: Jannello, Heisenberg, Vladimiro Acosta, all of them working on the edge… Unlike art, design has to have a use, a need to cover, though both forms of aesthetics share the aid of drawing, perspectives, etc, their relation is neither stable nor permanent or linear. Design is use, though it can sometimes become part of an ART conception, specially these days in which many museums present design collections. But the proper place for industrial designed objects is the market, not the museum. An industrially design object reaches the museum because there's a social recognition of the product, but it is the market the place for excellence in which these objects are validated and enter the real world, outside the workshop and the designer's blueprints.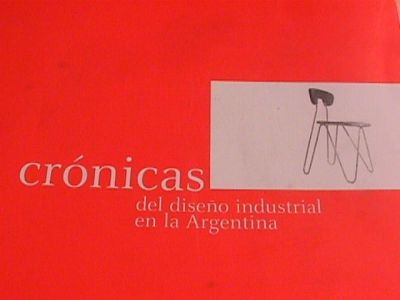 Cronicas del diseno industrial en la Argentina
Cronicas del diseno industrial en la Argentina. Brief insight on Ricardo Blanco's career. Prize Konex de Platino 2002 y Prize Konex 1992. Among. Among the many prizes he was awarded are Prize Destaque en Movelsul, Brazil, 1998 and 1st. Prize as FADU Project at Italia's Cup - Regio Emilia – International competition of DEsign Schools. His papers and research works were published at Design Journal (Korea), Modo (Italy), Diseño (Chile), Design Yearbook (England). He frequently grites about Industrial Desgn in Tipografica Magazine of Argentina as well as in Cronista Arquitectura Magazine of Argentina. Co editor together with Prof. Rosa Maria Raverain the number dedicated to Design in TEMAS, the National Fine Arts Academy publication. So if you are interested in Art Design or Antiques, and you are travelling to Argentina please feel free to email us…….. and what about Collectibles and just to mention some like Advertising, Advertising Art, Architectural, Art Deco, Auto Parts, Badges, Banks, Beswick, Bottle, Bottle Openers, Bronze, Button, Calendars, Candy Containers, Carnival Glass, Chandeliers, Christmas, Coca Cola, Corkscrews, Elvis Presley, Ethnic Art, Ethnic Toys, Fans, Fishing, Fishing Reels, Folk Art, Francisco Adaro, Furniture, Lamps and lightning items, the wild 60's and 70's, Garden Furnishing, Girl Scout, Glass Art, Glass Contemporary, Golf, Halloween, Inkwells, Insulators, Ivory, Japanese Woodblock Prints, Jewellery, Judaic, Kitchen, Knife, Lamps, Lighters, Lightning Rod , Majolica, Match Holders, Medical, Motorcycles, Music, Napkin Rings, Nautical, Netsuke's, Nutcrackers, Paintings, Liberato Spisso, born Buenos Aires, Argentina. 14 March 1903, Portrait Artist, Viski, Jean ( Janos ) 1891 - 1961, Old Car, Paper, Paperweights, Pens, Pencils, Pencil Sharpeners, Pepsi Cola, Perfume Bottles, Pewter, Phonographs, Photography, Postcards, Posters, Prints, Radio, Railroad , Records, Steam Tractor, Scientific Instruments, Sewing, Sheet Music, Silver, Souvenirs, Sports, Stero Cards, Stereoscopes, Telephones, Television, Tools, Toys, "The Buenos Aires Toy Museum. Argentina", or a Tractor, Typewriters, Watch, Weapons, Weather Vanes, Wood Carvings, Wooden, World's Fair, to say Vito Campanella. Please feel free to contact Flor Rodriquez by emailing her:
Email: Flor Rodriguez.
or Bob Frassinetti: For more information:
Email: Bob Frassinetti.
Press here to go back to web blog:
Daily Updates on Art, Antiques, Collectibles as well as travel information for Buenos Aires, Argentina.
Phone me thru Skype, ID: Bob Frassinetti or you can also chat with me thru Yahoo, press here:
Yahoo Contact
Find me on MySpace and be my friend!