Compro Motocicletas Antiguos Alemanes Pre Primera Guerra Compro Motocicletas Antiguos Alemanes Pre Primera Guerra como los,…….. - Adler - Brennabor - Dürkopp - Göricke - NSU Wanderer Y también el 1915 de Austria motorcicleta PUCH, tambien documentos, libros, catalogos, articluos de publicaid y repuestos de estos y otros maquinas pre guerra,........ Meantime, ............... Read daily Up Dates on Art and Antiques for Buenos Aires, Argentina http://www.frassinetti.biz Argentina also exports antiques over 100 years old with the help of Bob Frassinetti Read all about the South of South America, Argentina, Chile and Uruguay on this link. www.frassinetti.biz Updated and new web site, The Buenos Aires Toy Museum, Argentina www.the-ba-toymuseum.com Chat some more soon, ................................ Bob Frassinetti.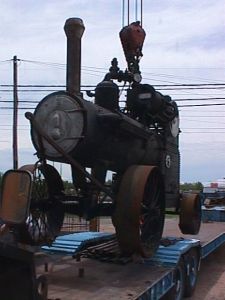 Compro todo a Vapor! Tren, Tractor y Maquinas a VAPOR
lista te tractores que estoy buscando…… 1) Marshall MP6 - 6 Cyinder Leyland Diesel engine 2) Field Marshalls Seies 1, 2, 3 and 3a 3) Fiat Models anno 1919-1936, models 700, 702 and 703 4) David Browns, models 50D wheeled and rubber tyres and 50TD is a crawler (not with wheels, but with tracks) 5) Steam Engines Maqinas a vapor Ingleses (All British made ones!) 6) Massey Harris 4 by 4 GP Tractor models (GP=General Purpose) 7) Todo los Lanz tractores. www.frassinetti.com Bob Frassinetti, art and antique dealer and free lance journalist photographer from Argentina, Buenos Aires, working on the web, writing both for pleasure and work on art, antiques and collectibles, in and on Buenos Aires, Argentina as well are neighboring countries, Chile and Uruguay. "I've written for several Travel Adventure, Art & Antiques Magazines on and off the web and have researched Toys to Tractors as well as Steam Engines made or found in Argentina, as well as Travel Adventure along Route 40 and now the upcoming Dakar Rally 2009 to start here in " Buenos Aires, Argentina 2009. www.frassinetti.biz Daily updates on Everything on Art & Antiques as well as Travel and Export Import Information for Argentina, Chile or Uruguay. Nothing is too small or BIG for us to Export. For more information:
Email: Bob Frassinetti.
Press here to go back to web blog:
Daily Updates on Art, Antiques, Collectibles as well as travel information for Buenos Aires, Argentina.
Phone me thru Skype, ID: Bob Frassinetti or you can also chat with me thru Yahoo, press here:
Yahoo Contact
Find me on MySpace and be my friend!