Clipper" COSMOS " "Clipper" a tre alberi con vele quadre. Orgoglio della Marineria Ligure, è la costruzione navale, completamente in legno, più notevole realizzata in Italia nel periodo 1860 / 1875. Ordinato dagli Armatori Fratelli Frassinetti, costruita in 16 mesi presso i Cantieri Cadenaggio, varato il 10 Dicembre 1865, destinato alle tradizionali rotte tra la Liguria ed il Sud America, compie il viaggio inaugurale Genova Montevideo in 51 giorni. Dopo cinque anni di servizio, a seguito gravi danni riportati in una tempesta al passaggio di Capo Horn, viene posto in disarmo a Genova. CARATTERISTICHE Lunghezza 65 rnt. Larghezza 12,58 mt. Pescaggio 7,75 mt. Portata 2.800 Tonn. Velocità 14/15 nodi Passeggeri 40 distribuiti in 20 cabine doppie + numerosi emigranti in "corridoio". EQUIPAGGIO 1 Comandante 3 Ufficiali 35 Marinai Dal Notiziario "Marinai d'Italia" Check out Market Place Argentina our Forum for Buying and Selling from Argentina.
2012 Bob Frassinetti Copyright Roberto Dario Frassinetti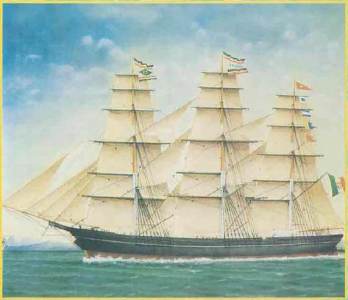 COSMOS Clipper FF
Clipper" with three masts with square sails. Pride of the Marine Ligure, shipbuilding, made entirely of wood, the most remarkable achievements in Italy in the period 1860 / 1875. Ordered by the Owners Frassinetti Brothers, built in 16 months at Cantieri Cadenaggio, launched December 10, 1865, for the traditional routes between Liguria and South America, makes its maiden voyage in 51 days Genoa, Montevideo. After five years of service, following severe storm damage reported in the passage of Cape Horn, is placed in disarmament in Genoa. FEATURES Length 65 RNT. Width 12.58 meters. Draught 7.75 meters. Capacity 2,800 tons. Speed ​​14/15 knots 40 passengers in 20 cabins distributed + Number of immigrants in "corridor". CREW 1 Commander 3 Officers 35 Sailors News from the "Sailors of Italy"