Citroen 2CV Citroen 2CV the ugly duckling turned into Swan Head officers of Citroen France had come up with the inexpensive cool vehicle back in 1936, but they had to wait until the end of Second World War to present it in society. The main theme behind this small car was to create a low cost comfortable vehicle for multi purpose use. The men involved in the design of this everlasting car were told basic directions, but not regular traditional ones such as space, design, etc. For example, one of Citroen executives said, I'm a tall man, and I should be able to sit comfortably in the drivers' seat with his hat on. So if when trying the prototype his hat fell, then the prototype was destroyed. One other demand was that anyone should be able to transport 2 dozens of eggs in the back seat without any of these being damaged or broken. By 1939 there were 250 2CV Prototypes made in Levallois that were never to see the light since the war was declared by France and England and those were destroyed to avoid industrial espionage. Only 4 of the total were saved from the destruction hidden in a barn in the French countryside. Once the war was over in 1948, the 2CV was presented at the Paris Automobile Show on October 6th. Most of the press who witnessed the presentation had nothing but negative comments. However Revue Automovile Suisse, foresaw the promissory future. On the other hand, the public received the 2CV open hearted proven by the endless waiting lists to get the economic and comfortable small vehicle. The early 2CV model was christened 2CV type A featuring a two opposed cylinder engine, air cooled, with a 375 cc piston displacement developing a 9cv SAE power at 3500 rpm. Running up to 65 km/h and consuming from 4 to 5 gas liters at 100 km. Available only in metallic gray, this model was a huge success in France and around the world. No more than a decade after Citroen 2CV made its first public appearance, this model was being produced around the globe in faraway locations such as Belgium, Cambodia, Chile and Argentina. It was 1958 when Societe Anonyme Andrť CitroŽn opens its Argentine plant, and though the French firm had already developed several auto models, it was the Citroen 2CV the chosen one. Featured as a B Segment passenger car, the Argentine 2CV had 190-700 cm3 motorizations. Given the high unsatisfied demand within the Argentine market, Citroen had to strengthen its supplies to the point they worked with Pfaff-Bromberg who was already in the country producing. In their Brandsen plant they began to produce in 1960 the first Argentine Citroen 2C and Citroen Van. The production progression was to start in 1962 with 10,000 units to double the number by 1964 in order to be able to export the 2CV model to Paraguay. By 1965, Citroen Argentina was producing over 6,300 2CV AZL models and 1,400 AZU Vans, exporting also to Uruguay and Spain. During the 60s there are constant works to improve the engine and transmission system, and by 1969 Citroen launches the 3CV model. Improvements and new developments within the style and comfort will continue in 1970, featuring the Ami 8 as well as the young vehicle Mehari. A critical economy situation forced Citroen to retire from the productive activity in Argentina. Eduardo Sal Lari, president of Daher Boge Inc would become the local representative for Citroen and will continue to produce some of its models under the brand name IES. Citroen will return to Argentina during the 90s with the PSA Peugeot Group. For more information:
Email: admin@frassinetti.com Bob Frassinetti.
Press here to go back to web blog:
Daily Updates on Art, Antiques, Collectibles as well as travel information for Buenos Aires, Argentina.
Phone me thru Skype, ID: Bob Frassinetti or you can also chat with me thru Yahoo, press here:
Yahoo Contact
Find me on MySpace and be my friend!
Check out Market Place Argentina our Forum for Buying and Selling from Argentina.
2012 Bob Frassinetti Copyright Roberto Dario Frassinetti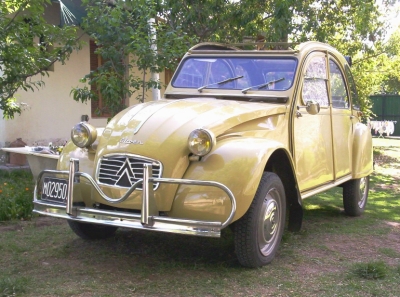 If collecting is the hobby par-excellence of the 20th century, the passion for cars is the passion par-excellence of the century of the industry and the technology. And the blend of both of them is just mind blowing. Putting together such great passions into a greater world is exiting and amazing. This merge takes place all over the world and it can be witnessed in privileged reunions such as Classic and Sports rallies. When these events take place, passionate owners, patient restorers who work on these beauties as neurosurgeons do on people's brains, who care for them as if they were newly born children made out of crystal, unveil the mystery of their passion while presenting their Classic in society. The full smile that populates the most of their face is a true indication of how much do these women and men love their classics and sports and in how many ways these are a mechanical reflection of their passion and personality. People of all social standards, ideologies and styles find no impediment whatsoever to gather together in car clubs and share the only thing they have in common, their passion for cars. Most of the clubs are members only, to which you have to apply in order to get in. Usually the basic requirement is to own a licensed car matching the club's theme. In some cases, the rules are stricter, and one can frequently read in forums or www sites complains about the restrictions, and elitist way to decide upon membership. So if we look at the car lovers' community carefully we'll realize that love is not all you need in the world of vintage cars… Sometimes, what you need is a little help of your friends! Even more, the issue of matter gets complicated if your passion for these wonderful antique machines is not sustained by an actual car, and an actual participation of these events as a main character and not just a mere spectator drooling upon other's vehicles, day dreaming about the chance of owning one yourself and driving it in the endless list of rallies that take place all over the world in exotic paradise like locations, from Ushuaia-Argentina, to the ancient roads of Tunisia. Wouldn't it be fantastic to have the opportunity of a lifetime aboard one of those wonderful classic and sports vehicle, even if we don't have the money or the time to take care –they way it's needed- of one of those gem mechanical beauties? Plus, just having a classic or sports car isn't enough to tour the world aboard one, for there's a lot of work, time and paperwork involved in the transportation of the vehicle to the rally location. But if all, world wide sports and classic cars fans got together in a world wide rally car this would be millions' dream come true. All and all, it's just an idea, I dream of frequently….