Citroen 2CV Citroen 2CV the ugly duckling turned into Swan Head officers of Citroen France had come up with the inexpensive cool vehicle back in 1936, but they had to wait until the end of Second World War to present it in society. The main theme behind this small car was to create a low cost comfortable vehicle for multi purpose use. The men involved in the design of this everlasting car were told basic directions, but not regular traditional ones such as space, design, etc. For example, one of Citroen executives said, I'm a tall man, and I should be able to sit comfortably in the drivers' seat with his hat on. So if when trying the prototype his hat fell, then the prototype was destroyed. One other demand was that anyone should be able to transport 2 dozens of eggs in the back seat without any of these being damaged or broken. By 1939 there were 250 2CV Prototypes made in Levallois that were never to see the light since the war was declared by France and England and those were destroyed to avoid industrial espionage. Only 4 of the total were saved from the destruction hidden in a barn in the French countryside. Once the war was over in 1948, the 2CV was presented at the Paris Automobile Show on October 6th. Most of the press who witnessed the presentation had nothing but negative comments. However Revue Automovile Suisse, foresaw the promissory future. On the other hand, the public received the 2CV open hearted proven by the endless waiting lists to get the economic and comfortable small vehicle. The early 2CV model was christened 2CV type A featuring a two opposed cylinder engine, air cooled, with a 375 cc piston displacement developing a 9cv SAE power at 3500 rpm. Running up to 65 km/h and consuming from 4 to 5 gas liters at 100 km. Available only in metallic gray, this model was a huge success in France and around the world. No more than a decade after Citroen 2CV made its first public appearance, this model was being produced around the globe in faraway locations such as Belgium, Cambodia, Chile and Argentina. It was 1958 when Societe Anonyme André Citroën opens its Argentine plant, and though the French firm had already developed several auto models, it was the Citroen 2CV the chosen one. Featured as a B Segment passenger car, the Argentine 2CV had 190-700 cm3 motorizations. Given the high unsatisfied demand within the Argentine market, Citroen had to strengthen its supplies to the point they worked with Pfaff-Bromberg who was already in the country producing. In their Brandsen plant they began to produce in 1960 the first Argentine Citroen 2C and Citroen Van. The production progression was to start in 1962 with 10,000 units to double the number by 1964 in order to be able to export the 2CV model to Paraguay. By 1965, Citroen Argentina was producing over 6,300 2CV AZL models and 1,400 AZU Vans, exporting also to Uruguay and Spain. During the 60s there are constant works to improve the engine and transmission system, and by 1969 Citroen launches the 3CV model. Improvements and new developments within the style and comfort will continue in 1970, featuring the Ami 8 as well as the young vehicle Mehari. A critical economy situation forced Citroen to retire from the productive activity in Argentina. Eduardo Sal Lari, president of Daher Boge Inc would become the local representative for Citroen and will continue to produce some of its models under the brand name IES. Citroen will return to Argentina during the 90s with the PSA Peugeot Group. For more information:
Email: admin@frassinetti.com Bob Frassinetti.
Press here to go back to web blog:
Daily Updates on Art, Antiques, Collectibles as well as travel information for Buenos Aires, Argentina.
Phone me thru Skype, ID: Bob Frassinetti or you can also chat with me thru Yahoo, press here:
Yahoo Contact
Find me on MySpace and be my friend!
Check out Market Place Argentina our Forum for Buying and Selling from Argentina.
2012 Bob Frassinetti Copyright Roberto Dario Frassinetti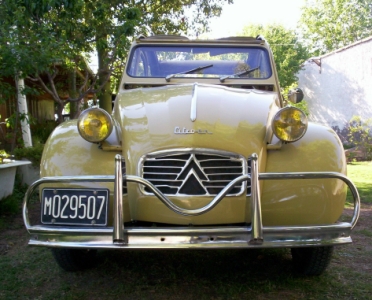 Citroen 2CV Argentina
The insight on a Citroen 2CV passionate collector

Click to join artandantiques
Ruben lives in the Western province of Mendoza at the bottom of the Andes Mountains; just 20 km away from Mendoza Capital city. He lives in a small town that looks pretty much like the French countryside. Ruben is a family man who has a strong and interesting passion, his Citroen 2CV. We know for a fact that Citroen and more precisely its 2CV models were milestones in Argentina's auto history, in projection with the role these vehicles have played around the world. Ruben's story is just one of the many passionate stories we have found regarding the strong impact 2CV's have had on Argentines. We chatted with him this morning to know a bit more about his personal story with 2CVs, what they mean to him and a bit more. Ruben bought his 2CV 10 years ago in Mendoza. He bought it from a man who had it for over 20 years and kept the vehicle in superb conditions. His Citroen 2cv was made back in 1964 in Argentina. It has a 14 hp, 425 cc engine with centrifugal engage clutch, Michelin pneumatics, original tapestry, users' manual, radiator tent as well as the original fabric roof top in blue. The model was known as the 2CV de luxe due to some sophisticated details such as the third window, chromed hubs and bumpers as well as side and front moldings. He also has some of what we call the collectors treats: original purchase invoice from 1964. Ruben tells us he has always been passionate about the brand, that he has had 2CVs since he had the possibility of earning his own money. When we asked what the single most important thing was, he pointed out that the first thing that caught his eye was Citroen's history, the way it evolved since the 30s onwards. He recovers the anecdotes we reproduced in our article, since it was amazing the way the vehicle was first received as an unappealing car for the countryside and then it became a world trademark. Ruben is the first one in his family to have a Citroen, but he's sure he won't be the last one, especially because he has passed on his passion for 2CV's to his youngest son, Facundo. When Citroen returned to Argentina during the 90s they opened an agency in Mendoza, and for the opening days Ruben contacted them directly offering them his own original 2CV to showcase on the opening day. However, the company representatives told him that they were trying to detach from the 2CV image, working on a transition into slimmer lines and modern vehicles. Ruben was overwhelmed and upset. He inquires why on earth a firm that has developed such a trademark vehicle would disregard its history! He does not share the new winds blowing under Citroen wings'. While there are frequent Citroen rallies, the only one he participated of was the 2004 Mendoza Citroen Reunion. Citroen fans from around the globe came to Argentina, mainly from the South American region, because the shipping costs to transfer back and forth a vehicle are indeed high. However he recalls upon a German collector who had a 2 engine Sahara model, who traveled half around the planet to take part of the show. Our conversation went on and on, talking about the ins and outs of 2CVs and their history in Argentina. And at one point of the conversation, he tells us that he had written an ode, a poem to his own vehicle. Ruben was kind enough to share it with us, and we transcript it as follows. the Ode is in Spanish, and we have put our best effort to translate it without loosing its intrinsic music. Por la francesa llanura Through the French countryside Se ve la corva figura We see its curveted figure de un 2CV avanzar It's that of the 2CV Su rumoroso motor With its roaming motor 2 cilindros bien opuestos 2 cylinders facing eachother Una lona como techo Fabric roof y doble piso el baúl and a double floor on the trunck Levanto mi vista, y veo I lift my eyes and see En un cielo muy azul A very blue sky Su exquisita y rica historia As I recall its Que viene a mi memoria exquisite and rich history y se las paso a contar Which I decide to share now Se gestó a fines del 30 It was conceived during the 30s Vio la luz en los 40 Created during the 40s Se expandió en los 50 It expanded during the 50s Fue hippie en los 60 Turned hippie in the 60s Intelectual en los 70 Intellectual during the 70s Ciudadano del mundo en los 80 World's citizen by the 80s Y cuando dejó de salir en los 90 al principio, And when it was off production, during the early 90s, Su fama ya era un mito Its world fame turned it into a myth por toda la humanidad for all humanity A la que supo entregar To which it provided con su techito entreabierto With its briefly opened roof aunque sea por un momento even only for a little while el viento de la libertad the winds of freedom Por la francesa llanura Through the French countryside Se ve la corva figura We see its curveted figure de un 2cv avanzar It's that of the 2CV As soon as he finishes his recital, he says: "As I said the words, I feel I'm a crazy lover of the Modern creations, just like Cervantes did with cavalry". No extra words are needed to portray this man's affection and passion for his own car, its history and historical cultural meaning. A passion that finds its way through poetry to reach other collector's hearts. For more information:
Email: admin@frassinetti.com Bob Frassinetti.
Press here to go back to web blog:
Daily Updates on Art, Antiques, Collectibles as well as travel information for Buenos Aires, Argentina.
Phone me thru Skype, ID: Bob Frassinetti or you can also chat with me thru Yahoo, press here:
Yahoo Contact
Find me on MySpace and be my friend!