Image Gallery for the SOTHEBY'S Auction on IMPORTANT SPORTING PAINTINGS AND PRINTS in New York on Thursday, June 6, of 1985.Art Auction Catalog Sporting Paintings.Here Janos Viski was present,(J Viski), the famous horse painter from Hungary .....
Email: Bob Frassinetti.
Art Dealer & Journalist.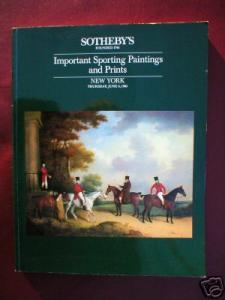 Viski, J. 292
Each of 296 Paintings are pictured in color or Black & White. This makes a great reference for the artists:Viski's was the Number 292.
Email Bob Frassinetti.
The Buenos Aires Art Dealer,Argentina.
Bob Frassinetti. Copyright 2005. Roberto Dario Frassinetti.

Click to join artandantiques