Rare Carnival Glass made in Argentina. It's important to point out the historical, cultural and social value of the Argentine Glass industry, making all types of glass,as well as Carnival Glass, today a collectible looked for world wide.
Email Bob Frassinetti.
The Buenos Aires Art Dealer,Argentina.
Market Place Argentina: Follow Link and Join
Bob Frassinetti, The Buenos Aires Artdealer NET
Travel Guide for Art and Antiques in Argentina
|
Promote your Page too
Bob Frassinetti
|
Create your badge
Bob Frassinetti. Copyright 2005.And Updated 2009, 2012 Roberto Dario Frassinetti.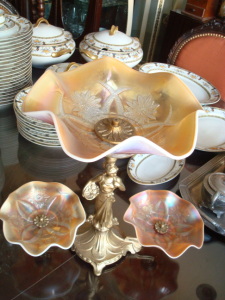 Rare Carnival Glass
In the famous words of a collector, "I don't have any consultants or advisors. I obviously talk to people, but to use a cliche, you should buy art with your eyes and not with your ears." Bob Frassinetti.