Busco informacion sobre Fabricantes de carecorías para funerarias, Busco informacion sobre BONINO Y CIA. SA, SERVICIOS FUNEBRES, Top line is CARROCERIAS Middle line isVIVIAN Bottom line is Buenos Aires, enviar datos al admin@frassinetti.com o por Correo Argentina, Roberto Dario Frassinetti, Santa Fe 1389 Martinez, 1640, Buenos Aires, Argentina. Bob Frassinetti: For more information:
Email: Bob Frassinetti.
Press here to go back to web blog:
Daily Updates on Art, Antiques, Collectibles as well as travel information for Buenos Aires, Argentina.
Phone me thru Skype, ID: Bob Frassinetti or you can also chat with me thru Yahoo, press here:
Yahoo Contact
Find me on MySpace and be my friend!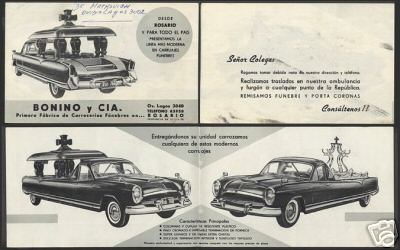 Busco Informacion sobre BONINO Y CIA. SA