Art to Antiques and travelling Argentina Uruguay or Chile with Bob Frassinetti ...... So if you are interested in anything from Art to Tango or Antiques, and you are thinking of travelling to Argentina Chile or Uruguay please feel free to email me…….. Please feel free to contact Bob Frassinetti: For more information:
Email: Bob Frassinetti.
Press here to see all topics on Art, Antiques and Travel Information for Buenos Aires & Argentina:
Everything on Art, Antiques, Collectibles as well as travel information for Buenos Aires, Argentina, Chile and Uruguay.
Phone me thru Skype, ID: Bob_Frassinetti or you can also chat with me thru Yahoo, press here:
Yahoo Contact
Find me on MySpace and be my friend!
Phone: +54 911 6965 1955 or in Argentina (011) 15 6965 1955 Read The Buenos Aires Art Dealer a e-zine magazine on Art, Antiques & Collectibles from Argentina.
The Buenos Aires ArtDealer for iPhones, when traveling Argentina.
We are exporting tractors, from Case Steam Engines to the Lanz Bulldog or Lanz Pampa. You name it we sell them .....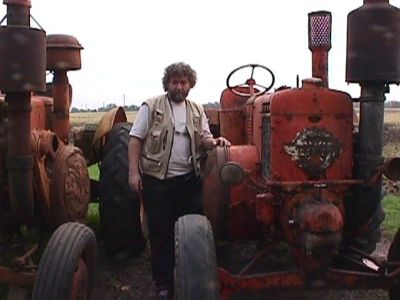 LANZ Bulldog or Lanz Pampa
Well the Tractor hunting Season 2008 has been official opened and ... Yes, that's where I come in handy, knowing both the language and the local rituals I can help you all along from day one……… I'm hunting all kinds of steam engines, tractors from the Lanz to the Case, from British tractors or tractors from any part of the world, to German ones, exported and brought in to the South of South America…..