Art & Antique Dealer Bob Frassinetti & Lonely Planet.Thank you Sandra Bao! Up date on Buenos Aires Bob Frassinetti & Lonely Planet. Good news to all our readers and friends! Lonely planet's latest 4 th edition has come out and has recommended me to all as a tourist services, so we are know listed in both Argentina and Buenos Aires Guide Books.. I'm very happy about being mentioned and I hope this is a good tip for travellers coming to Buenos Aires –or any other Argentine location-… As I've been doing so far, I'll share our insider's point of view, tips and all information the visitor might need… And for those who want more, I also offer a customized tourist service, specially tailored to fit each and every one's needs of interest and passion. For more information:
Email: Bob Frassinetti.
Press here to go back to web blog:
Daily Updates on Art, Antiques, Collectibles as well as travel information for Buenos Aires, Argentina.
Phone me thru Skype, ID: Bob Frassinetti or you can also chat with me thru Yahoo, press here:
Yahoo Contact
Find me on MySpace and be my friend!
Market Place Argentina: Follow Link and Join
Bob Frassinetti, The Buenos Aires Artdealer NET
Travel Guide for Art and Antiques in Argentina
|
Promote your Page too
Bob Frassinetti
|
Create your badge
Updated 2012, Bob Frassinetti Copyright Roberto Dario Frassinetti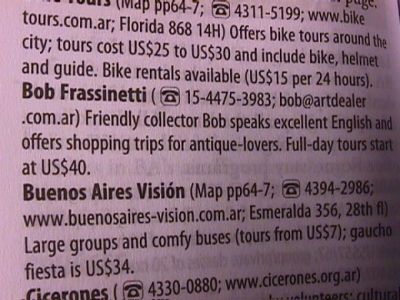 Argentina Guide Book Page 84
The ArtDealer Rally Car Club. There's no need of being a millionaire to enjoy life's greatest luxuries and pleasures. Indeed, some times, the key to wonderful and amazing activities is in many ways too elitist… Not any more. Art Dealer is working on a complete sophisticated luxury leisure plan accessible to anyone and everyone… the only special requirement is to have a great passion for life's true pleasures, from food and drinks, to amazing landscapes and one of a kind journeys, from fashion and body care to antiques, collectibles and design in items, objects and vehicles… We already presented some of our exclusive non elitist yet sophisticated and personalized options for the Art lover and culture passionate visiting Buenos Aires thru means of our customized tour option, now we want to share with you all our option for the magnificent outskirts districts and gorgeous provinces all over the Republic thru our rally club shared time. As we mentioned previously, Argentina has developed in the last couple of decades intensely within the world of rallies, the number of races has grown to a broad monthly option throughout the whole country; and the quality of the rallies has increased greatly in terms of International rename and visitors, as well as touring. This is a great and different approach to a wonderful landscape -both for locals and visitors- who while riding a true gem of mechanics enjoy some of the world's greatest natural creations. Participating in these rallies is not complicated whatsoever, but in many cases the long distances and high transport expenses make of this fantastic experience a complicated task. Art Dealer is working on the idea of buying all a Classic car, a Sports car, a vintage classic 4WD from IKA, Argentine Kaiser Industries, as well as a modern 4WD, for its rally car shared time club. Proceeding in the same way one does when acquiring a real estate property, our members will be entitled to the use of each of these vehicles thru a determined period during the year. Owning one of these marvelous vehicles at home, keeping it in perfect tune, and traveling around the world with it to take part in rallies, is very expensive and sometimes a luxury hard to keep up with. But owning it within a club society makes the process much easier, fun and affordable. An other thing to take care of by most classic and sports car lovers is that not always the rest of the family takes the same pleasure in riding and rallying as they do; all and all, they don't wish to embark in such wonderful adventure without their lovely presence. Once again, we have taken into account this factor and worked out a complementary alternative. Let's see this in a specific case. Say, for example, that you wish to take part in the Wineries rally that takes place in Mendoza, Argentina during the first days of March, but your girlfriend (or boyfriend) does not enjoy rallies as much as you do… We provide a custom made spa body and soul option, wineries and vineyard tour, shopping tour in BA, cultural tour through the unveiled treasures of our country for the lapse of time the rally takes place. After the event, you can reunite in a one of a kind "Life's true pleasures" tour. A top notch gourmet experience, great food and great wine to match a great moment in life… So, after reading the above lines you might have realized that not only the dream like vacation is just a step away; but that you can enjoy it with the person you care about the most, without neither of you neglecting nor your passions, nor your likes. Herewith is the list of this year's rallies in the Argentine Republic and our brother Uruguay Republic. Take into consideration that due to the amazing development within this field, the sure-most thing is that next year the option will be even broader. FIVA Rally 2004 – March In the End of the World an A category FIVA rally, from El Calafate to Ushuaia. March Argentine Classic Fiat Cars I Rally of the ghosts "Night Rally in the Northern grater Buenos Aires" February 25th Wineries RALLY Classic and Sports car Club of Mendoza CLUB DE AUTOS CLASICOS & SPORT MENDOZA March 10 -12 th 2005 See information on Wine & Food:Press here to go to the information:The Food & Wine, Argentina. Sport & Classic Car Punta del Este Midnight Rally March 19th Argentine Asociation of Sports cars- Asociación Argentina Automóviles Sport Prix "Alberto Gomez" Speed and Endurance March 24th Cordoba Classic Car Asociation- Asociación Cordobesa Autos Antiguos Villa Carlos Paz. XXI Rally to the Herat of Argentina April 8, 9 and 10th Friends of the Ford A Club -Club Amigos del Ford A Primer Auto jumble 2005 April 16th BMW Club Argentina Rally to The Flowers - Las Flores April 16th Antique Automobile Club - Club Amigos de Automóviles Antiguos Rally Anual (CADEAA). May 13 – 15th Two Oceans "Dos Océanos" Challenge May 1, 2, 3 2003-2004 Sport & Classic Car Punta del Este Rally Anual to Colonia del Sacramento May 28 - 29 th Alfa Romeo Argentine Club Rally of the North June 4th Asociation of Standard Historical Tourism Racers- Asociación Corredores de Turismo Estándar Histórico IXº Vuelta de Lobos June 4th Rosario Historical Automobile Club- Club Automóviles Históricos de Rosario 100 Miles June 10 – 12th 5C Grand Prix Mountain, Historical TC in La Cumbre, Cordoba June 10 -11 th Clasic Fiat of Argentina Club- Club Fiat Clásicos de Argentina 4th Fiat Peugeot challenge. Endurance and driving ability skills. June 11th Friends of the Ford A Club- Club Amigos del Ford A Vintage Auto challenge Bs. As. June 12th Argentine Association of Sports Automobiles- Asociación Argentina Automóviles Sport Rally July 2nd Sport & Classic Car Punta del Este "Integration" Rally Punta del Este - Chuy. July 9 – 10th Argentine Automobile Club- ACA Historical Grand Prix September 3 -11th Mercedez Benz Club 4th Rally, Pergamino. September 23, 24, 25th Club 5C 21st Rally of the Lakes and 500 km in the hills - Villa Gral. Belgrano. Cordoba September 23 – 24th Clasic Car Pergamieno- Autoclásica Pergamino Annual Rally. September 23- 24th Sports Automobile Club and Argentine Asociation of Sport Automobile -CAS y Asociación Argentina Automóviles Sport Pirx Friendship "Premio Amistad" – Speed September 24 - 25 CAS Sports automobile Club 1000 Miles Sport of the Argentine Republic October, 28-30th Antique and Classic Automobile Club of Entre Rios- Club de Automóviles Antiguos y Clásicos de Entre Ríos "100 Miles -Historical" – Paraná November 5th Sport Automobile Club-Club Automóviles Sport 1000 Miles. November 24-26th Antique Automobile Club of Mar del Plata- Club de Automóviles Antiguos de Mar del Plata Mar del Plata Rally December 8-10th If you would like to take part in any of our tours or in this interesting rally venture, please don't hesitate to contact us directly thru email, phone or chat.