Researching all important Art Galleries here in Buenos Aires, La Plata, Cordoba, Mendoza and south of Argentina, Mar del Plata and Bahia Blanco. Important Art Galleries in Buenos Aires Argentina, so far, America, Artemulitiple, Arte Nuevo, Arthea, Atica, Bodo, Contemporanea, Christel K, Del Retiro, El Mensaje, El Sol, Feldman, Gradiva en Galatea, Imagen, Jacques Martinez, Legard, Marquez, Marha Zullo, Nice, Praxis, Rodolfo Cascales, Rodrigo Carmona, Rubbers, Ruth Benzancar, Scheinsohn, Siglo XX, Soudan, Suipacha, Van Riel, Velazquez, Vermeer- E y B Scheinsohn, Wildenstein, Witcomb, and Muller as well as Muller and Schoech. About art collector and antique dealer and free lance journalist from Argentina, Buenos Aires, working on the web, writing both for pleasure and work on art, antiques and collectibles, in and on Buenos Aires, Argentina as well are neighboring countries, Chile and Uruguay. "I've written for several Travel Adventure, Art & Antiques Magazines on and off the web and have researched Toys made here in Argentina, as well as Travel Adventure from Route 40 and Lighthouse Adventures along the Atlantic and Pacific coast, Dakar Rally 2009, 2010 and now for a 3erd time, 2011, and now we are "Building a Gallery Museum in the Province of Cordoba" Real Estate Investment …….. Travelling for Art and Antiques" and I have been on line since 1996 Living with art and antiques and travelling the south of South Amercia. Argentina, Chile and Uruguay San Telmo, Buenos Aires 2010 Argentina ph: +54 911 6965 1955 alt: +54 911 44753983 Meantime, ............... Read daily Up Dates on Art and Antiques for Buenos Aires, Argentina http://www.frassinetti.biz Argentina also exports antiques over 100 years old with the help of Bob Frassinetti Read all about the South of South Amerca, Argentina, chile and Uruguay on this link. Updated and new web site, The Buenos Aires Toy Museum, Argentina Chat some more soon, ................................ Bob Frassinetti. Mobile Phone 054 911 6965 1955 Check out Market Place Argentina our Forum for Buying and Selling from Argentina.
2012 Bob Frassinetti Copyright Roberto Dario Frassinetti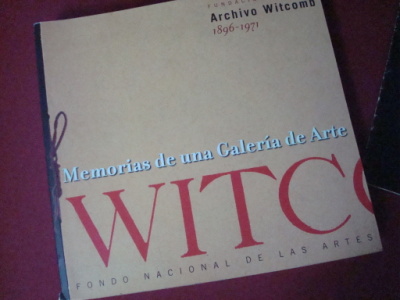 From Witcomb to
Witcomb Gallery Argentina. Book on world famour Argentinian Art Gallery, Fundacion Espigas Archivo Witcomb 1867 to 1971. Memorias de una Galeria de Arte. Witcomb. Fondo Nacional de las Artes.