Alberto Olmedo, better know in our country as El Negro [1] Olmedo Alberto Olmedo, better know in our country as El Negro [1] Olmedo, was one of the finest and most avant-garde comedians in the history of Argentine comedy. He pushed the limits within TV, cinema and humor. Playing in the edge of the irony and acid humor, greatly appreciated by intellectuals and the public in general, he was daring and awesome, he died too young, leaving an empty place that hasn't been filled yet. Even nearly 20 years after his sudden death, in reruns and in the popular memory he's the owner of our laughter, jokes and two senses. He was a stepping stone in our comedy history, in our history as a society. He was born August 24th 1933, in the lower neighborhoods of the second industrial city in Argentina, Rosario, in the province of Santa Fe. He was the son of Matilde Olmedo, a young and hardworking woman. Their condition was poor, so he had to work all his way through elementary school up. His first encounter with comedy and art was when he was 18 and took part of the Asturias juvenile troupe. He took part in many local shows directed by one of his beloved friends Juanito Belmonte.
Art Collector & Design Antique Dealer Argentina
|
Promote your Page too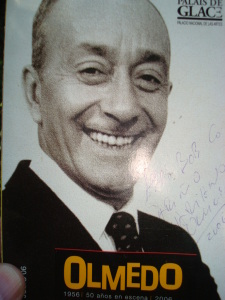 "Alberto Olmedo" Argentina
By 1954 he decides to travel to Buenos Aires to try his luck at the center of the arts. He soon gets a job at the State Broadcast center in the old Channel 7. He was a technician, but soon he would prove his acting skills to the network executives… On March 12th 1958 he weds his first wife Judith Jaroslavsky with whom he would have three children, Fernando, Mariano and Marcelo. By 1960 Olmedo's luck will take an unespected turn, when he becomes the central icon of children television with his show Captain Piluso. In 1962 we would all discover the adult humored Olmedo in JA JA operation, a show by the famous show biz brothers Hugo and Gerardo Sofobich. No Toca Boton would take him to channel 11, alter several years in channel 9. He would be the leading man of the leading show, with the network's highest rating. Where he would create famous characters such as El Manosanta, Perkins, Chiquito Reyes, El dictador de costa pobre, etc. In 1968 after two years had gone by after his divorce of his first wife, Olmedo marries Tita Russ. He will have two children with her, Javier and Sabrina. Soon he would enter the silver screen with his unique comedy style bordering the limits of sex, lust, humor and double meaning jokes. His career was an ever-growing challenge to which he was always outdoing and improving. He dies young in 1988 in Mar del Plata beach resort, falling from his apartment's balcony. Today he is a humor maker icon to Argentines of all ages and times. That's why his son Mariano Olmedo, on the ocation of the 50th celebration of Olmedo in the local show business, created a special event and exhibit to homage his father and his everlasting talent. For more information :
Email: The Buenos Aires Art Dealer, Bob Frassinetti.
Press here to go to the Buenos Aires Art Dealer, San Telmo Section :
The Buenos Aires Art Dealer. San Telmo.
Press here to go to the Buenos Aires Toy Museum :
The Buenos Aires Toy Museum, Argentina.
Press here to read Daily updates on Art, Antiques and Collectibles :
Everything on Antiques and Art in Argentina, Chile and Uruguay.
Bob Frassinetti. Copyright 2005. Updated in 2010, Buenos Aires, Argentina. Roberto Dario Frassinetti.