Enamel Signs, and Advertising Signs,Image Gallery,from Argentina.These rare antique advertising signs from Argentina,either made here or imported from around the world,reflect in their design,a typography and textual content of the social and economic atmosphere of this period,in which they where made from around 1880 till the midle of the 20 th centuary.
Email Bob Frassinetti.
The Buenos Aires Art Dealer,Argentina.
Bob Frassinetti. Copyright 2005. Updated 2009 Roberto Dario Frassinetti.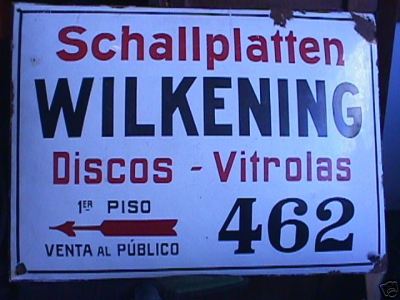 Walter Wilkening, German born, World War I Hero,
What spy stories are made from, truth is stranger than fiction rumours had it that …………..This auction is for items related to Walter Wilkening, German born, World War I Hero, and during World War II a possible German Nazi sympathetic who lived and worked here in Argentina who moved in diplomatic circles and who had organized in the German Club here in Buenos Aires, as this newspaper cuttings in German in a German Newspaper here in Buenos Aires proofs, also see thank you letter in English printed in the newspaper ……… for a meeting held in between the British and German to and in honour of the fallen comrades of arms as much as British as German, during the War. The enamel sign with the name of Wilkering for his shop here in Buenos Aires as in those days, he used as a front for possible German spy activities and as well as a 1960's Lufthansa certificate in German with his name on it …… this historic material is just proof that truth is stranger than fiction and what excellent spy stories are still out there to be tolled. His name is mentioned in the Story on German Submarines here along the Argentinean Coast line…… Items for sale in this auction are this enamel advertising sign form his shop, here in BA, Argentina So if you are interested in Art or Antiques, and you are thinking of travelling to Argentina Chile or Uruguay please feel free to email me…….. Please feel free to contact Bob Frassinetti: For more information:
Email: Bob Frassinetti.
Press here to see all topics on Art, Antiques and Travel Information for Buenos Aires & Argentina:
Everything on Art, Antiques, Collectibles as well as travel information for Buenos Aires, Argentina, Chile and Uruguay.
Phone me thru Skype, ID: Bob_Frassinetti or you can also chat with me thru Yahoo, press here:
Yahoo Contact
Find me on MySpace and be my friend!
Or Phone: +54 911 4475 3983 or in B's A's: 15 4475 3983 ) Invest in Argentina Real Estate an uprunning opportunity with a Future Read The Buenos Aires Art Dealer a e-zine magazine on Art, Antiques & Collectibles from Argentina.
The Buenos Aires ArtDealer, Argentina.